Sharjah Biennial 15 Releases Artist List
By The Editors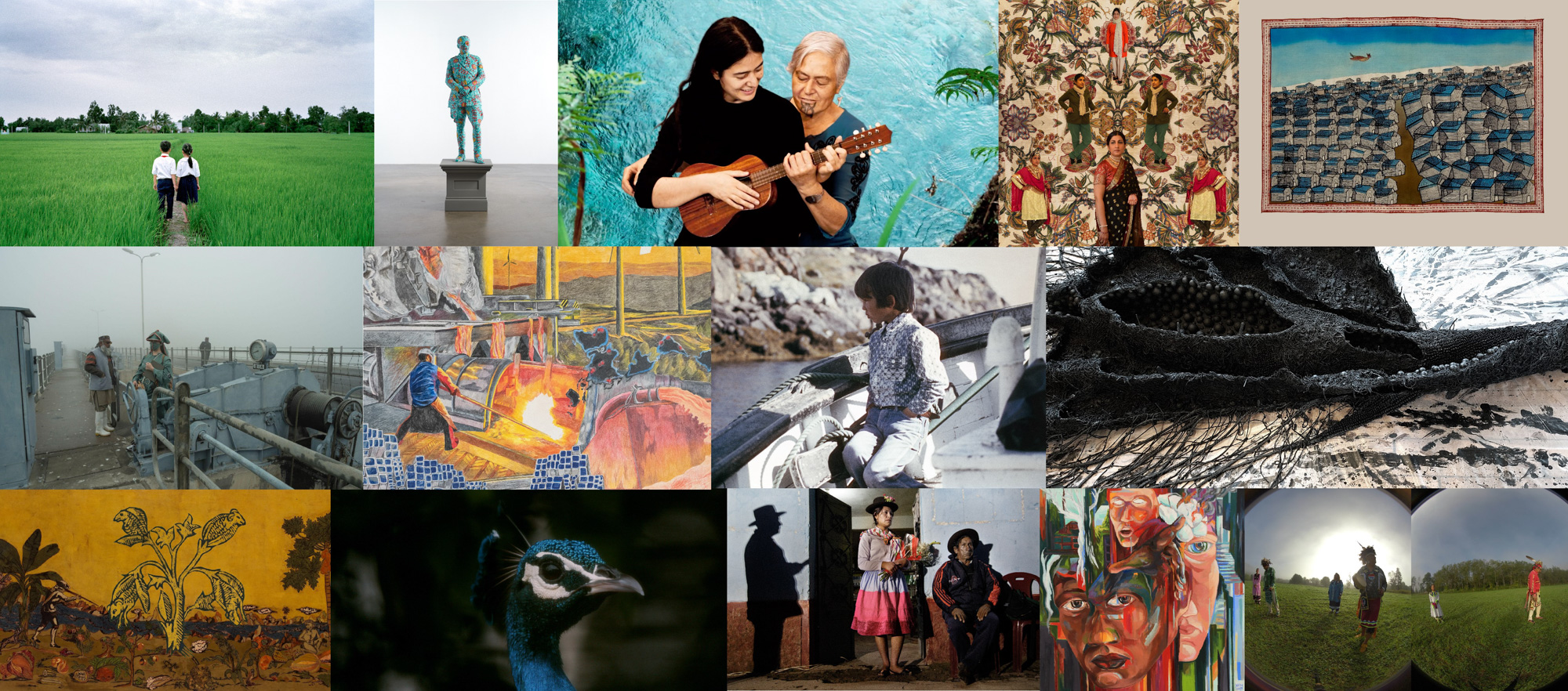 As the Sharjah Art Foundation (SAF) prepares for the opening of Sharjah Biennial 15 (SB15) on February 7, the organization has released the names of more than 150 participants in the 30th anniversary edition. SB15 will feature 70 new projects among more than 300 artworks on view.
Titled "Thinking Historically in the Present," the Biennial was conceived by the late curator Okwui Enwezor and is curated by SAF director Hoor Al Qasimi with a working committee of Enwezor's close colleagues. The concept derives from the Nigerian-born curator's groundbreaking explorations of postcolonialism in global art, which shifted conversations and perspectives in the art world to a more international and historical ones as he led Documenta 11 through multiple cities from 1997 through its penultimate staging in Kassel in 2002.
Artworks in SB15 trace several major themes, according to Al Qasimi, including "perspectives on nationhood, tradition, race, gender, body and imagination." Among the major new commissions for SB15 will be from celebrated artist-filmmaker John Akomfrah, a feature-length film by Coco Fusco, a multimedia work by Almagul Menlibayeva, a sound installation by Hajra Waheed, and projects that engage the local context of Sharjah, including those by Chicago-based painter Kerry James Marshall and Paris-based conceptual artist Nil Yalter.
SB15 will take place at 19 venues, from heritage buildings to the modernist landmarks as well as SAF's art spaces and span across five cities and towns in the emirate of Sharjah, including Al Dhaid, Hamriyah, Kalba, and Khorfakkan. The opening week program of performances and events takes place from February 7 to 12.

SAF's annual program of lectures and performances, March Meeting, is scheduled for March 9–12 and titled "The Postcolonial Constellation: Art, Culture, Politics after 1960." SB15 is free to the public and runs through June 11.
Here is the list of artists participating in Sharjah Biennial 15.
Basel Abbas and Ruanne Abou-Rahme
Maitha Abdalla
Fathi Afifi
Hoda Afshar
John Akomfrah
Moza Almatrooshi
Marwah AlMugait
Hangama Amiri
Brook Andrew
Malala Andrialavidrazana
Rushdi Anwar
Kader Attia
Au Sow Yee
Dana Awartani
Omar Badsha
Natalie Ball
Sammy Baloji
Mirna Bamieh
Pablo Bartholomew and Richard Bartholomew
Shiraz Bayjoo
Bahar Behbahani
Asma Belhamar
Rebecca Belmore
Black Grace
Diedrick Brackens
Maria Magdalena Campos-Pons
Cao Fei
Carolina Caycedo
Ali Cherri
Wook-Kyung Choi
Maya Cozier
Iftikhar Dadi and Elizabeth Dadi
Solmaz Daryani
Annalee Davis and Yoeri Guépin
Destiny Deacon
Manthia Diawara
Imane Djamil
Anju Dodiya
Kimathi Donkor
Heri Dono
Rehab Eldalil
Ali Eyal
Marianne Fahmy
Brenda Fajardo
Raheleh Filsoofi
Nina Fischer and Maroan el Sani
Coco Fusco
Flavia Gandolfo
Theaster Gates
Malek Gnaoui and Ala Eddine Slim
Gabriela Golder
Gabrielle Goliath
Yulia Grigoryants
Joana Hadjithomas and Khalil Joreige
Hassan Hajjaj
David Hammons
Archana Hande
Fathi Hassan
Mona Hatoum
Rachid Hedli
Lubaina Himid
Laura Huertas Millán
Saodat Ismailova
Isaac Julien
Saddam Jumaily
Patricia Kaersenhout
Robyn Kahukuiwa
Reena Saini Kallat
Hanni Kamaly
Amar Kanwar
Adam Khalil and Bayley Sweitzer with Oba
Bouchra Khalili
Naiza Khan
Tania El Khoury
Kiluanji Kia Henda
Ayoung Kim
Emily Kame Kngwarreye
Hiroji Kubota
Remi Kuforiji
Lee Kai Chung
Faustin Linyekula
The Living and the Dead Ensemble
Ibrahim Mahama
Nabil El Makhloufi
Jawad Al Malhi
Waheeda Malullah
Maharani Mancanagara
mandla
Lavanya Mani
Kerry James Marshall
Queenie McKenzie
Steve McQueen
Marisol Mendez
Almagul Menlibayeva
Helina Metaferia
Kimowan Metchewais
Meleanna Meyer
Joiri Minaya
Tahila Mintz
Roméo Mivekannin
Tracey Moffat
Aline Motta
Wangechi Mutu
Eubena Nampitjin
Dala Nasser
New Red Order
Pipo Nguyen-Duy
Mame-Diarra Niang
Shelley Niro
Thenjiwe Niki Nkosi
Elia Nurvista
Kambui Olujimi
Zohra Opoku
Selma Ouissi and Sofiane Ouissi
Erkan Özgen
Pak Khawateen Painting Club
Pushpakanthan Pakkiyarajah
Hyesoo Park
Philippe Parreno
Angela Ponce
Prajakta Potnis
Anita Pouchard Serra
Jasbir Puar and Dima Srouji
Monira Al Qadiri
Farah Al Qasimi
Nusra Latif Qureshi
Michael Rakowitz
Umar Rashid
Wendy Red Star
Veronica Ryan
Doris Salcedo
Abdulrahim Salem
Sangeeta Sandrasegar
Varunika Saraf
Khadija Saye
Berni Searle
Mithu Sen
Nelly Sethna
Aziza Shadenova
Smita Sharma
Nilima Sheikh
Yinka Shonibare
Felix Shumba
Semsar Siahaan
Mary Sibande
Kahurangiariki Smith
Mounira Al Solh
Inuuteq Storch
Vivan Sundaram
Pamela Phatsimo Sunstrum
Obaid Suroor
Hank Willis Thomas
Akeim Toussaint Buck
Hajra Waheed
Barbara Walker
Wang Jianwei
Nari Ward
Carrie Mae Weems
Nil Yalter
Subscribe to ArtAsiaPacific's free weekly newsletter with all the latest news, reviews, and perspectives, directly to your inbox each Monday.