Artists Hang Banners at Guggenheim in Support of Protest in Iran
By Catherine Li, Pamela Wong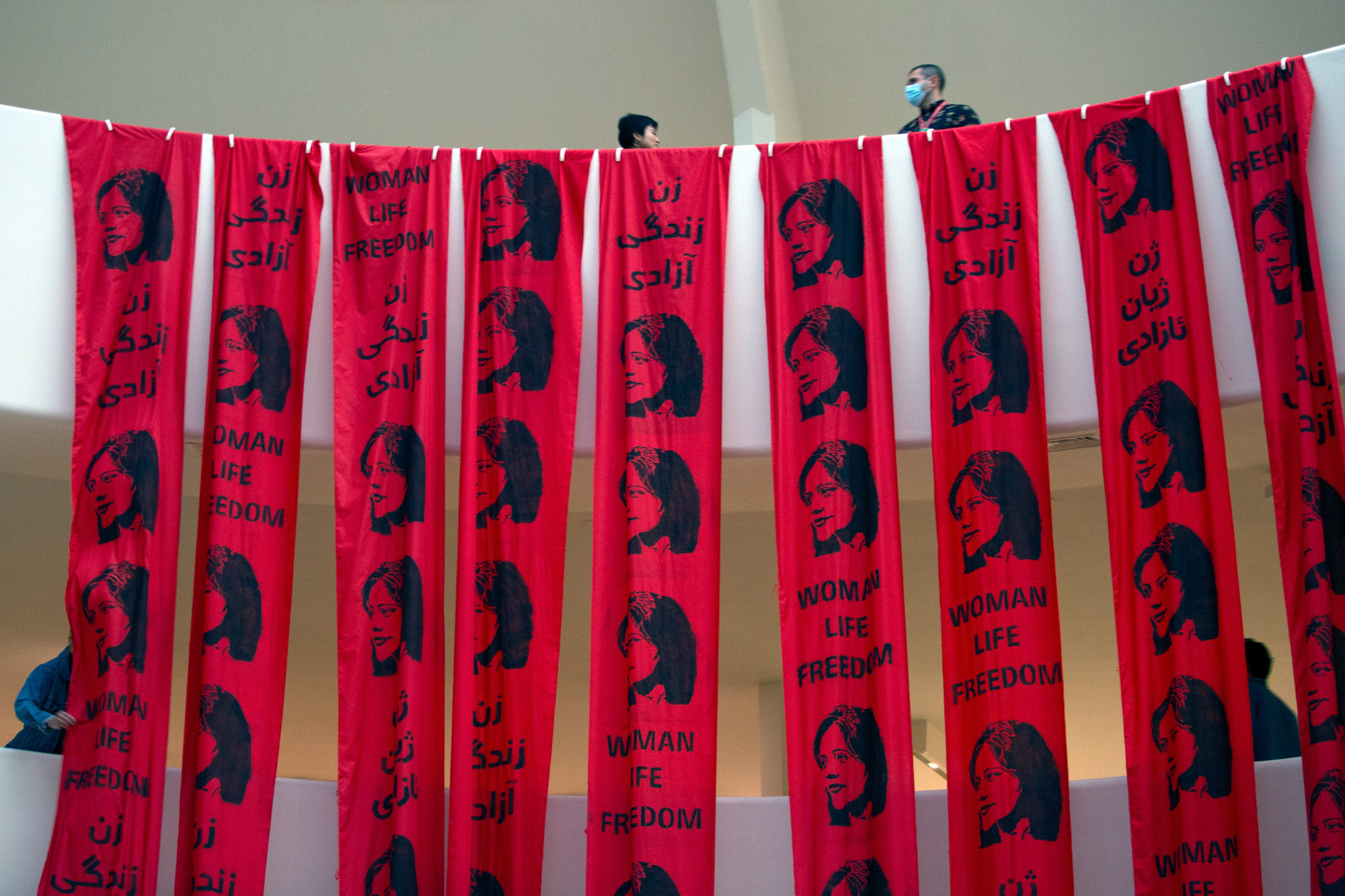 On October 22, a group of Iranian artists, dubbed the Anonymous Artists for Iran, unrolled 12 banners from the top of the Guggenheim Museum's white spiral ramp in support of the ongoing protests in Iran. The red banners are printed with the words "Woman, Life, Freedom" in both English and Kurdish, and the face of Mahsa Amini, the woman who died in custody after being arrested by morality police in Iran.
The group wrote in a statement, "The people of Iran are subjected to horrific violence and brutality on a daily basis. With restricted internet access and minimal or false coverage by western media, it is time to see them and hear them by shedding light on their fearless fight against a totalitarian system. Dismantling women's rights is a global challenge, an issue we unfortunately face whether here in the West or in the Middle East. Mahsa will never be forgotten and the cruel injustice done to the women of Iran can no longer be ignored." In a video shared by artist Leila Seyedzadeh online, people were clapping and cheering as the banners unfolded.
On the same day, shop owners and factory workers were reported to be on strike in Iran as a series of rallies and marches took place in other major cities across the globe, from Berlin to Washington, DC, and Los Angeles, in solidarity with the ongoing movement in Iran.
Amini, a 22-year-old Kurdish-Iranian woman, was allegedly beaten by Iran's morality police for incorrectly wearing her hijab and died in custody on September 16. Her death sparked a series of protests in Iran, with women taking the lead to demand an end to gender-based injustice and state-sanctioned violence. Before the government shut down the internet access across the country, Iranian women had filmed and circulated videos of themselves burning their headscarves and cutting their hair in public. The security forces in Iran have killed at least 244 protestors and detained more than 12,500 others at the time of writing.
In Iran, while few artists and art spaces have been able to make public statements, an anonymous artist dyed the water fountains in Tehran blood red on October 7. Artists and cultural workers around the world have been calling for support toward Iranians' protests for women's rights and freedom, through demonstrations and performances since mid-September.
The Guggenheim's rotunda has recently become a site for artists to stage their protest and express their concerns over socio-political issues. In March, a group of artists flew 350 paper planes calling for a no-fly zone over Ukraine.
Pamela Wong is ArtAsiaPacific's associate editor; Catherine Li is editorial intern.