Performance Recap: Melati Suryodarmo's UNPACKED NO. 1: Love
By Alex Yiu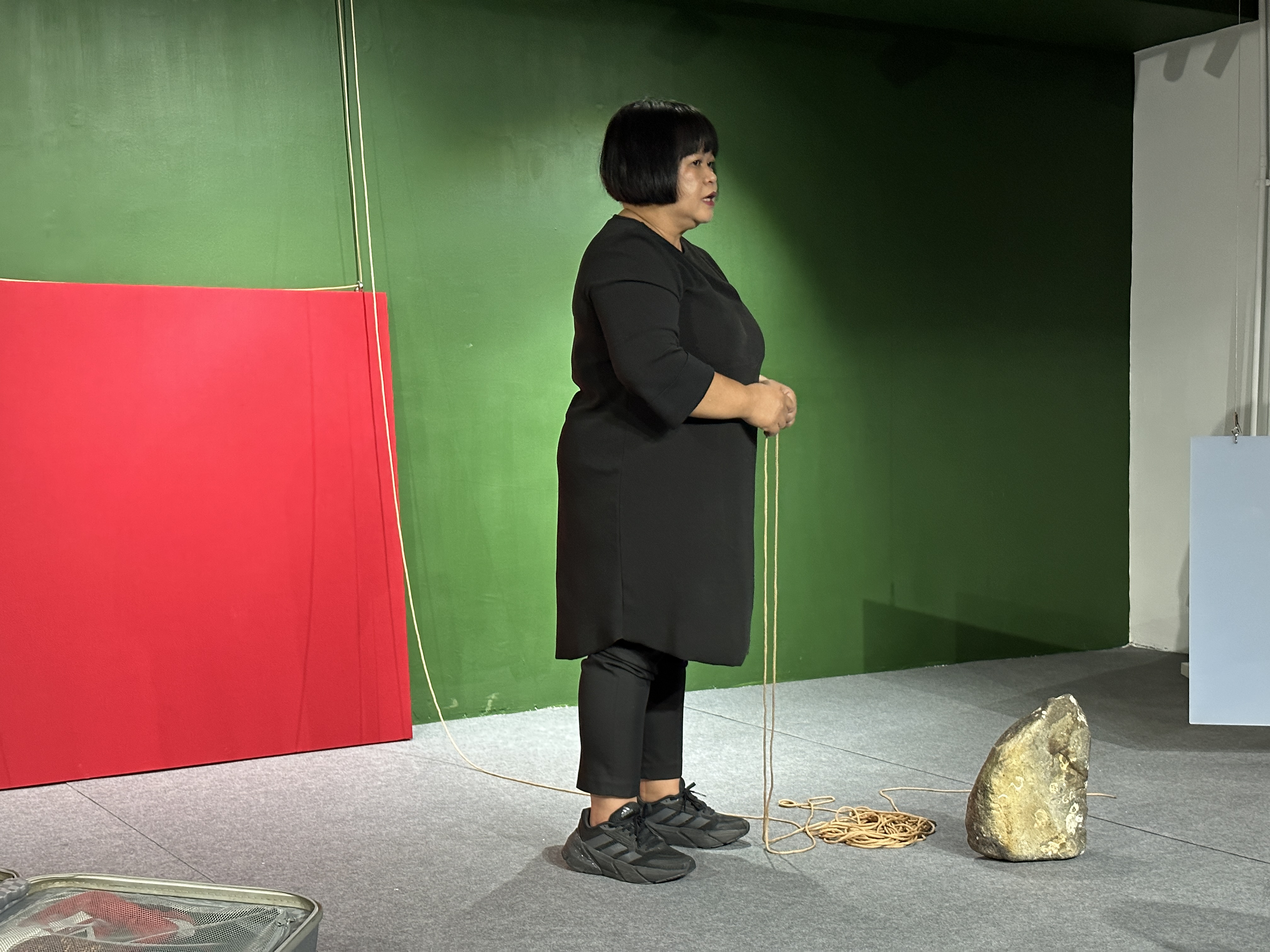 On the evening of Tuesday, September 12, at Tomorrow Maybe, an art space in Hong Kong's Eaton Hotel, audience members sat or stood on one side of the small gallery. On the other, a rope-tied red square board sat against a green wall with a projection screen hanging at waist level. As Indonesian performance artist Melati Suryodarmo entered, her presence interrupted the crowd's casual chitchat. She pulled a heavy suitcase in front of the audience from the back of the gallery, and maneuvering it into position she then contemplated it, broke the silence, and began.
Staged in this unusually intimate setting as part of the performance-based festival Jumping Frames – Hong Kong International Movement-image Festival, UNPACKED NO. 1: Love (2023) was a journey through Suryodarmo's artistic history. Over the course of 90 minutes, she recollected the memories of her previous works through an assortment of objects pulled from the suitcase, using props to re-enact her past performances and reflecting on her ideas behind these works, all threaded with the concept of love—the clichés, joy, trauma, and tragedy. Suryodarmo began by going through her memories from the 1990s, a period filled with political instability, from the collapse of the Berlin Wall in late 1989 to the end of Suharto's government in Indonesia in 1998. Suryodarmo told the audience about her early experiences as a foreigner in Germany and studying art after quitting international relations. She soon developed a suspicion of the essential meanings in objects, questioning what an object could signify beyond its obvious representation. Responding to her own question, Suryodarmo pulled out a rock from her suitcase she had found in Hong Kong, and with the help of Elysa Wendi, the festival's curator, she tied it up with a rope connected to the red board behind her, an act by Suryodarmo of imposing meaning on the stone, or perhaps an act of creation relative to the object, as she claimed.
Suryodarmo soon followed her memories back to her own family's history as traditional performers, diving into the trauma of many young dancers who are trained and put into trances as part of Indonesian ritual practices. These experiences were referenced in her performance work Lully for the Ancestors (2001). In UNPACKED, she took out a bronze bucket from the suitcase and filled it with water, submerging her face in the water until she almost drowned; she followed this by performing a classical dance accompanied by traditional music while holding whips in her hands. While referencing these influential art forms, Suryodarmo criticized how traditional Indonesian art forms self-orientalized the national culture to represent Indonesia through stereotypical images and tourism-oriented clichés, long after the end of the Dutch rule of Indonesia in 1945.
Suryodarmo's journey was not only traditional. She took inspiration from Egon Schiele's love story—his paintings were projected on the screen—for the long-durational event The Komodo Files (2005) where she and a male partner, Oliver Blomeier, spent five days on a platform together, diving into her traumatic experiences from her marriage that undergirded the work. Suryodarmo pulled on the rope and tied it to the suitcase in order to hang the red square up on the wall as a double entendre—a re-enactment of the red backdrop from The Komodo Files and a reference to the color composition in Kazimir Malevich's painting, titled Painterly Realism of a Peasant Woman in Two Dimensions (1915). Suryodarmo then posed in front of the red square with a series of gestures that referenced not only from The Komodo Files, but possibly also her related work Deformed Ethic of a Relationship 1.0 & 2.0 (2005).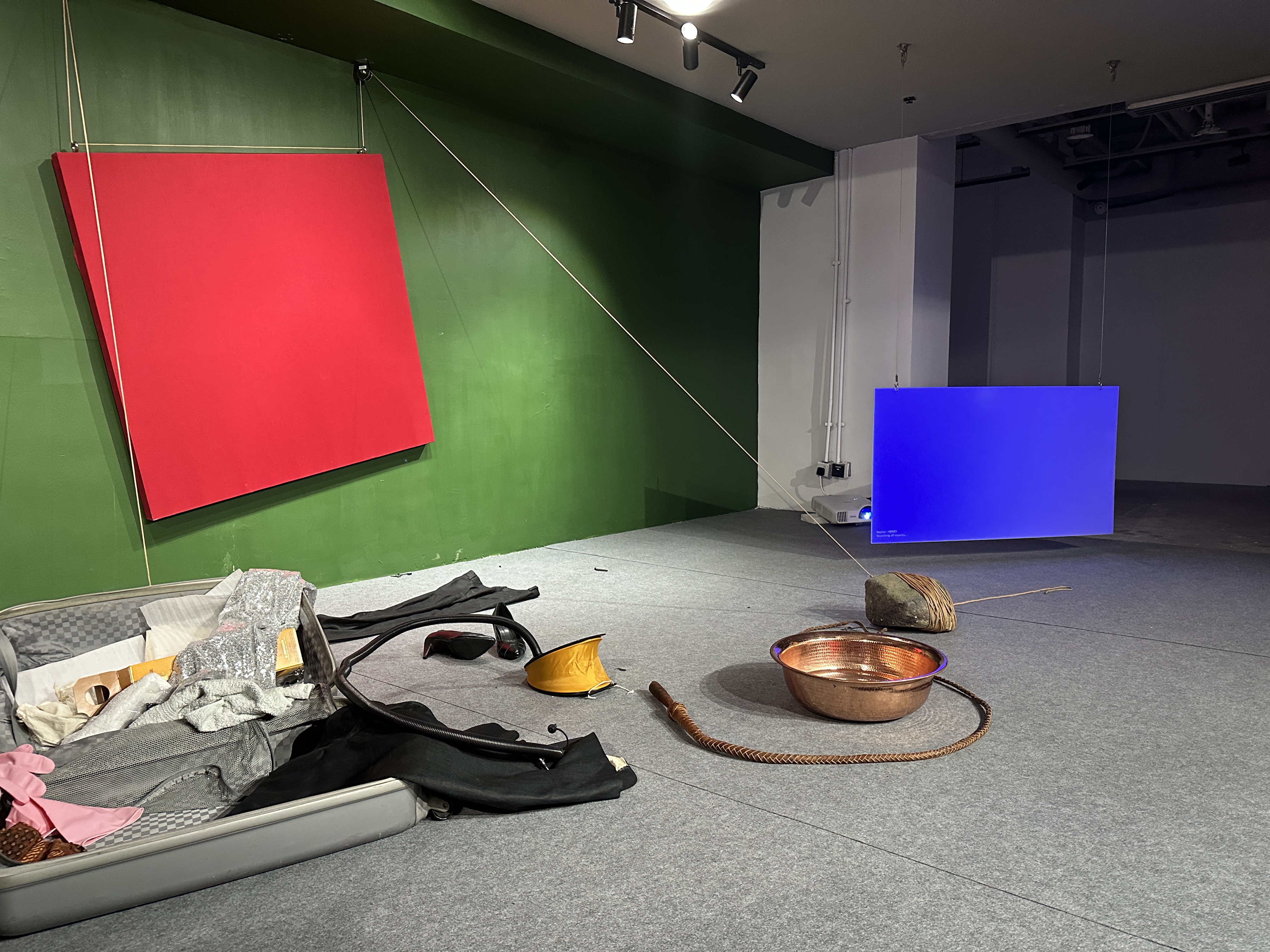 The notion of love is prominent in Suryodarmo's performance practice, as she further highlighted in UNPACKED. Departing from the untouchable seriousness of her other works, Love Me Tender (2001) is arguably her most accessible work. In an abridged version, Suryodarmo opened a bottle of whisky and shared it with the audience. She also started singing Elvis Presley's famous song Love Me Tender while using an air pump to fill up a balloon with her other hand until it exploded. Having finished, she remained motionless as Presley's song from the 1956 film keep playing. A sense of melancholy appeared on Suryodarmo's face as if one could glimpse distant memories in her eyes.
Until that moment the conversational quality of this performance felt like a significant departure from the more "formalized" works she had previously mounted at museums and festivals. In UNPACKED, actions, movements, utterances, and conversations are all merged into a narrative of Suryodarmo's history—from the personal to the broader contexts. Through its memoir-like structure, she refocused on her work on her own memories, reconfiguring and reappropriating fragments that unfolded the relationships between objects, artworks, and the viewers. In an artist's talk two days later, she called UNPACKED NO. 1: Love a "performance of the archive." The work opened up myriad questions about the potentiality for documentation of performance and for how an artist's archive could be reinterpreted and re-examined.
Alex Yiu is ArtAsiaPacific's associate editor.
Melati Suryodarmo's & Xavier Le Roy's works are on view in "(RE)PLAY" at Tomorrow Maybe through October 3, 2023.

Subscribe to ArtAsiaPacific's free weekly newsletter with all the latest news, reviews, and perspectives, directly to your inbox each Monday.