Zine Review: Gwo Bean Collective
By Nicole M. Nepomuceno
Not many vegetables, organic or otherwise, can win a friendly fight with an average-sized toddler but the hefty winter melon I encountered at Gwo Bean collective's studio certainly can. My Saturday visit coincided with one of their studio open days, where the public is welcome to buy produce from invited local farmers and browse the collective's zine collection. I initially came for the latter but quickly found myself entrapped by the allure of fresh greens; the monumental gourd, securely strapped for ease of transport, was ready to be sliced up into more saleable proportions.
Gwo Bean is a Hong Kong-based "group of creatives, artists, writers, farmers, teachers, and dreamers." Their studio, described to be a "safe space to work, learn, experiment, exhibit, dine, and rest," is in a building near the fruit market in Yau Ma Tei, a neighborhood rich in affordable food and specialized street stalls. Appropriately, their name (果邊 / gwo2 bin1) literally means "next to fruit" in Cantonese.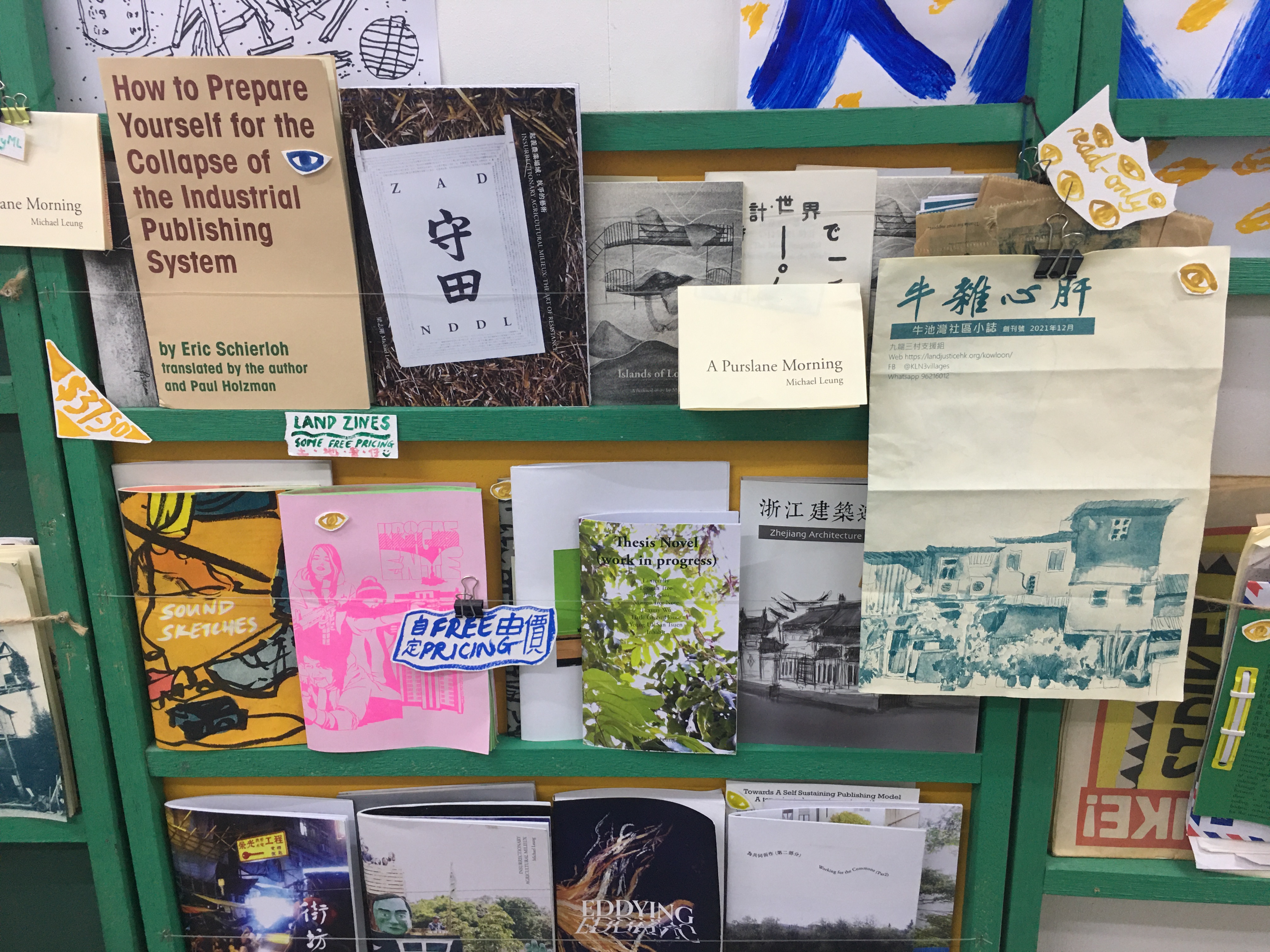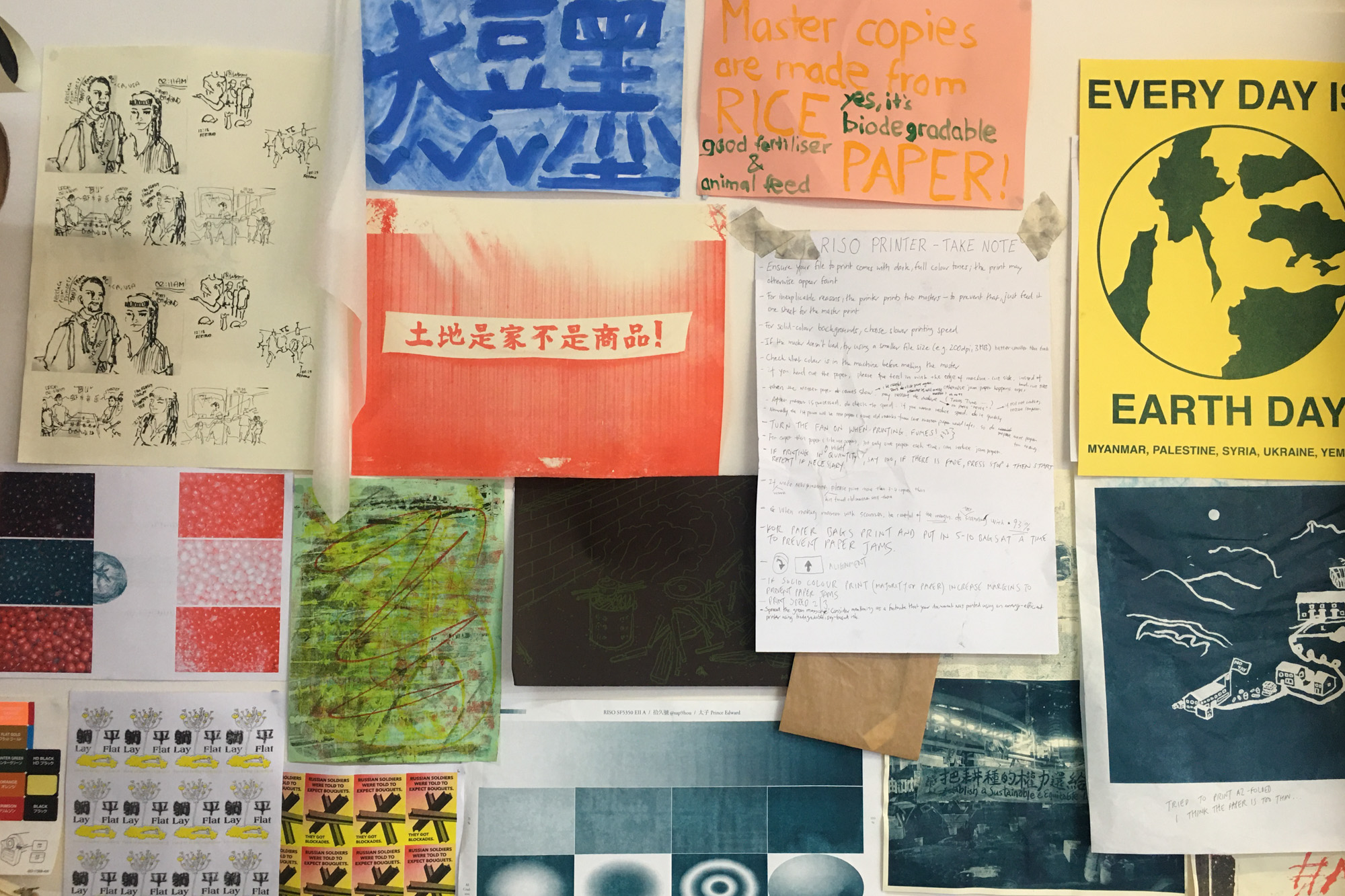 Along with their individual practices and full-time day jobs, the members of Gwo Bean are custodians of a community Riso printing machine, which they use to produce their own zines or ones in collaboration with other artists. The rice paper they print on is compostable, with scraps making their way into the compost jars on the studio's balcony, member Nanxi explained as we stood next to sprouting okras and rice grains. Residents of the compost jar's miniature ecosystem, the worms eating their way across the scraps seemed to be living a life at ease.
My relationship with zines is similar to that of these worms: an intimate consumption fulfilled at my own pace. Self-published, noncommercial, and specific, zines are platforms for the like-minded to find each other and for the open-minded to find new ground. Gwo Bean's zine collection was located by the entrance, with zines related to concepts of land, such as land cultivation and land ownership, sitting beside more image-based publications and the first Gwo Bean Zine.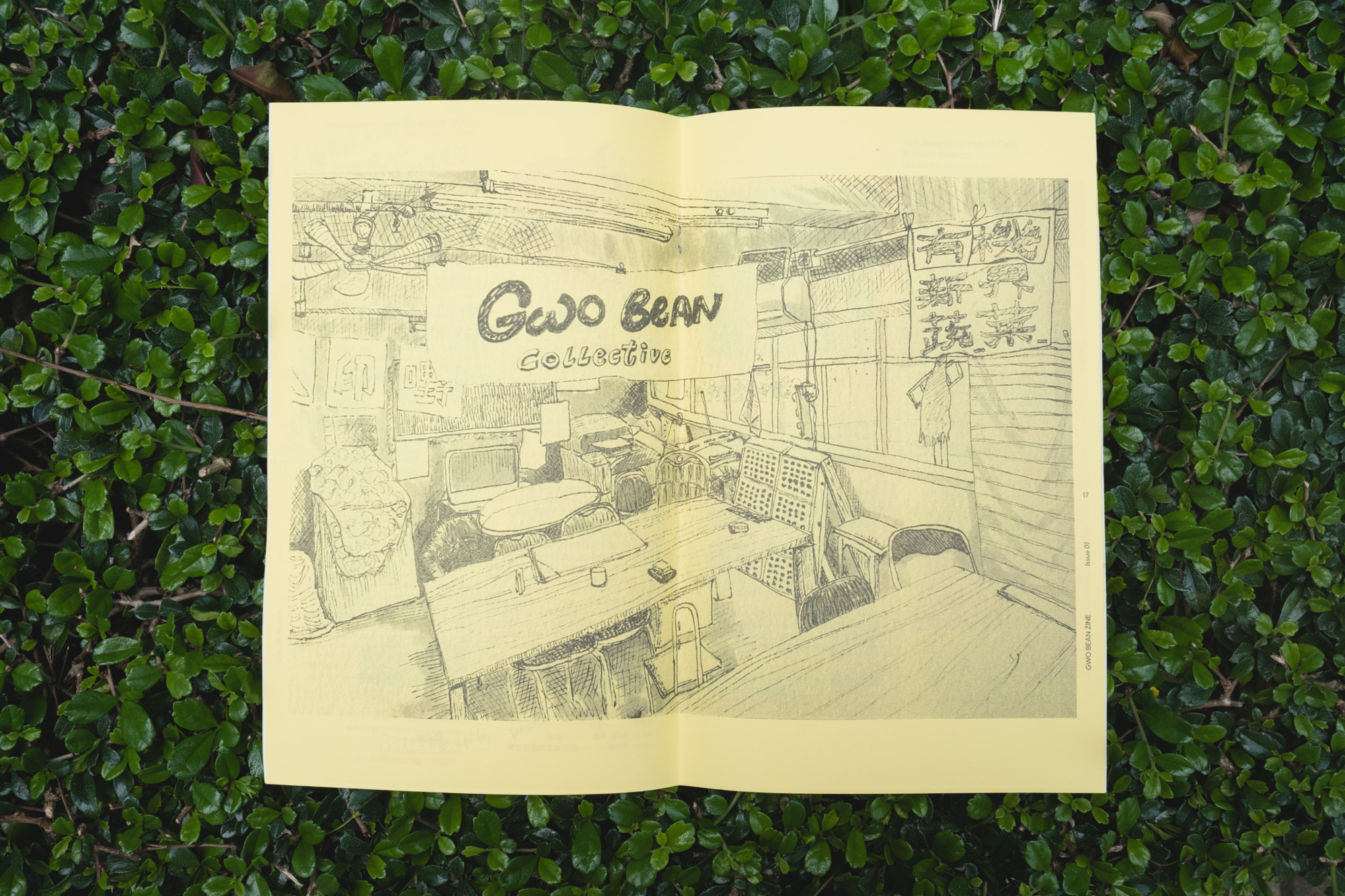 Issued for May/June 2022, the 31-page Chinese-and-English bilingual publication is a collaborative project by the collective's members that briefly introduces Gwo Bean and their recent relocation to their new studio and the surrounding neighborhood via images and texts.
Within the pages are compressed vistas of Yau Ma Tei: a sketch of the Nepali store downstairs encouraging readers to try their "super delicious Nepalese chai"; artist Pui Yi's new feline acquaintances, "naughty boy" Wong Jai and "friendly girl" B Nui, who live in a fruit stall nearby; and a fictional story by artist-educator Michael Leung about an umbrella-seller's successful business day during a typhoon.
Edited by illustrator Shuilam Wong, the zine is a peephole through which readers can look into the group's strong community ties. While this issue doesn't go into great depth about the collective's ideologies or the members' individual practices, its features on farmers and promotion of local produce show that Gwo Bean puts local producers and environmental cultivation at the center of their practice.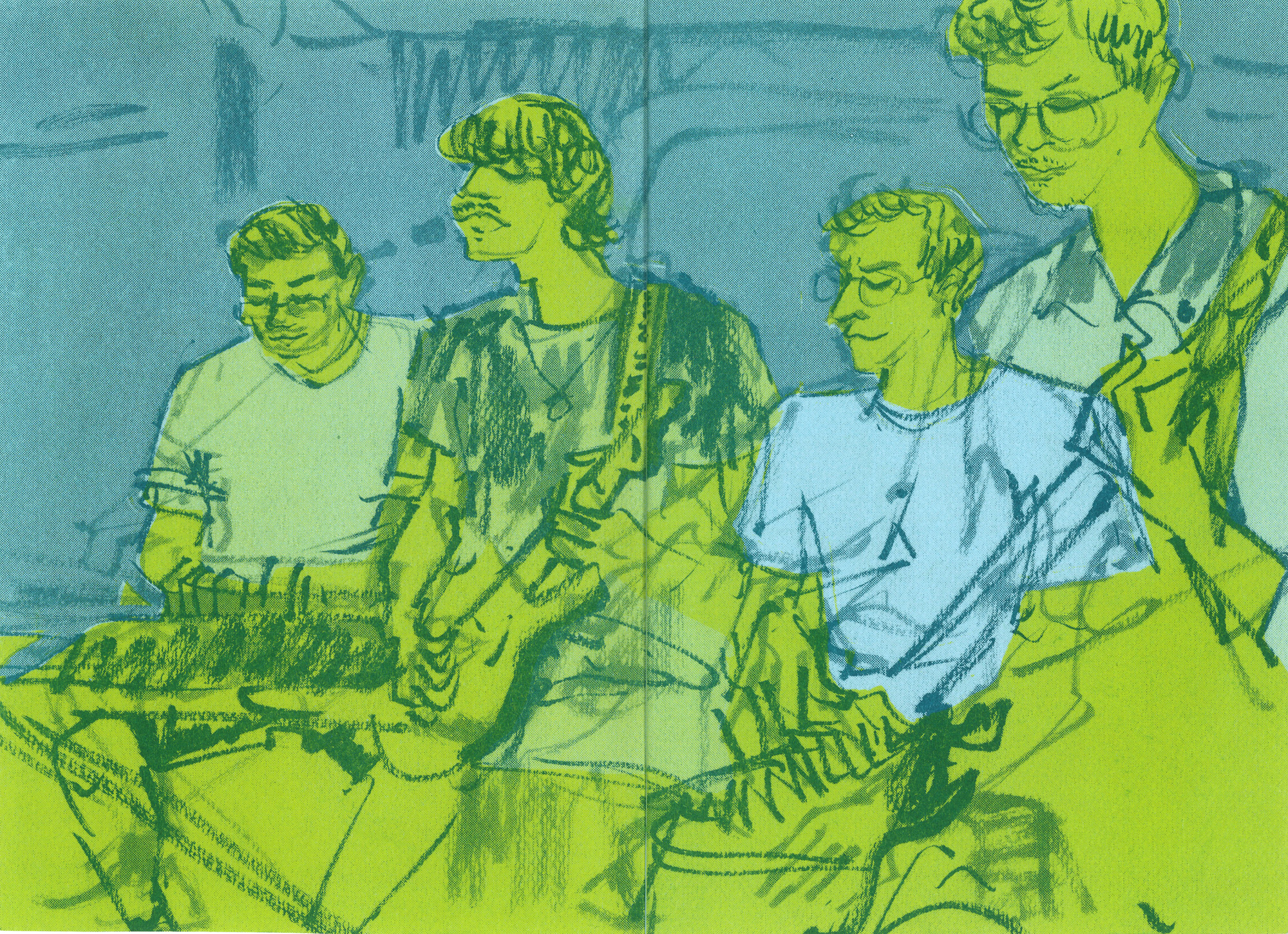 Conveniently, another zine printed by Gwo Bean allowed me to lean more into Gwo Bean Zine editor Shuilam Wong's practice. The first edition of Sound Sketches is a collection of on-site drawings created during live music events in Hong Kong in the summer of 2021 when Covid restrictions were briefly lifted. How can music and its affect be translated and communicated in visual terms?
Printed on multicolor paper, Wong's gestural, inky lines capture the aura of the city's independent and underground music scene, from "intimate jam sessions" to "crowded music festivals." Overlapping colors represent layers of sounds, while the lines' movements capture audible vibrations.
The musicians' expressions—eyes closed, eyebrows drawn together, and lips upturned—relay the concentration and gratification of artists as they engage in their art forms after many months apart. In short, flipping through Wong's zine made me feel like I too was there. But next time I could very well be—Sound Sketches doubles as a guide to finding artists in the area, as beneath the illustrations are the names the respective artists depicted, including four-member band Mr Koo, singer Cehryl, and the jazzy Scott Murphy Standards Trio.

Oohlala (2021) by designer Fish Kan is as flirtatious as it sounds. Also printed by the resident Riso machine, the small A5-sized zine fits comfortably in my hand. Once opened, a long, folded page rolls out of the covers like a frog's tongue—and frogs in the zine you will see. Oohlala illustrates the wildlife of Hong Kong's mountain paths getting frisky and bumping bottoms, as seen by the artist during a springtime hike. Hong Kong cub tails, tree frogs, and fruit bats get down and dirty against the backdrop of a luscious mountain, while two silhouetted figures from a distance engage in classic hiking activities such as: walking, sitting, standing with your hands on your hips, and pointing.
These delicate, hand-cut, and pasted curved pages provide many points of departure for internal musings on our relationship with nonhumans, starting from how fascinating it is that we traverse these species' scenic bedrooms during our pastimes to how the human concept of the public and private differ from that of the rest of the natural world. Kan lists the species' names under "Special Thanks" in the last page, a snippet of the surprising variety of our nonhuman neighbors.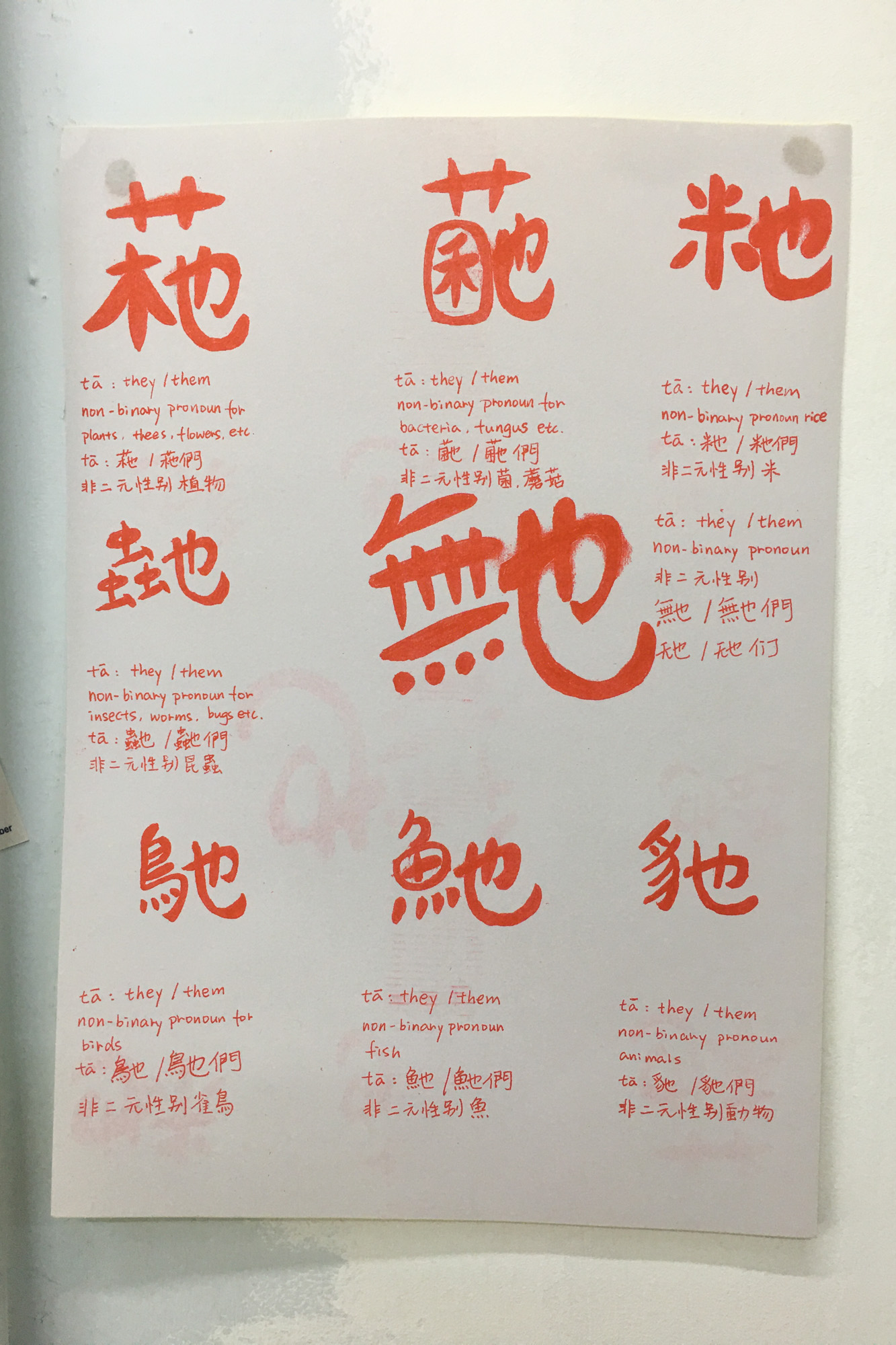 These three zines produced and printed by Gwo Bean all share a homemade quality; they are hearty products of mindful labor meant to nourish. My quick stay at Gwo Bean's studio was nourishing in other aspects as well; they offered me a bite of the winter melon, a cup of winter melon tea, and a red dragon fruit grown in Hong Kong, so I left well-fed. We exchanged stories and insights; they told me about their food runs to help farmers sell surplus produce and I shared my observation that winter melons look like large cucumbers. To orient a practice towards the community requires attention—something that the collective was generous in giving. It is easy to claim that a certain place is a safe space and more difficult to prove it, but I felt safe at Gwo Bean. I look forward to what they do next.
"Zine Reviews" is a column by ArtAsiaPacific's assistant editor Nicole M. Nepomuceno, where she reports on underground, independent print matter.