Vulnerability and mimesis: Up Close at Tai Kwun's "They Do Not Understand Each Other"
By Ashlyn Chak, Charmaine Kong, Jae Lamb
Drawing from the collections of the Singapore Art Museum and the National Museum of Art, Osaka, Tai Kwun's "They Do Not Understand Each Other" is a group show exploring encounters between different individuals and cultures. We look closely at three works from the exhibition, delving into their contexts and significations.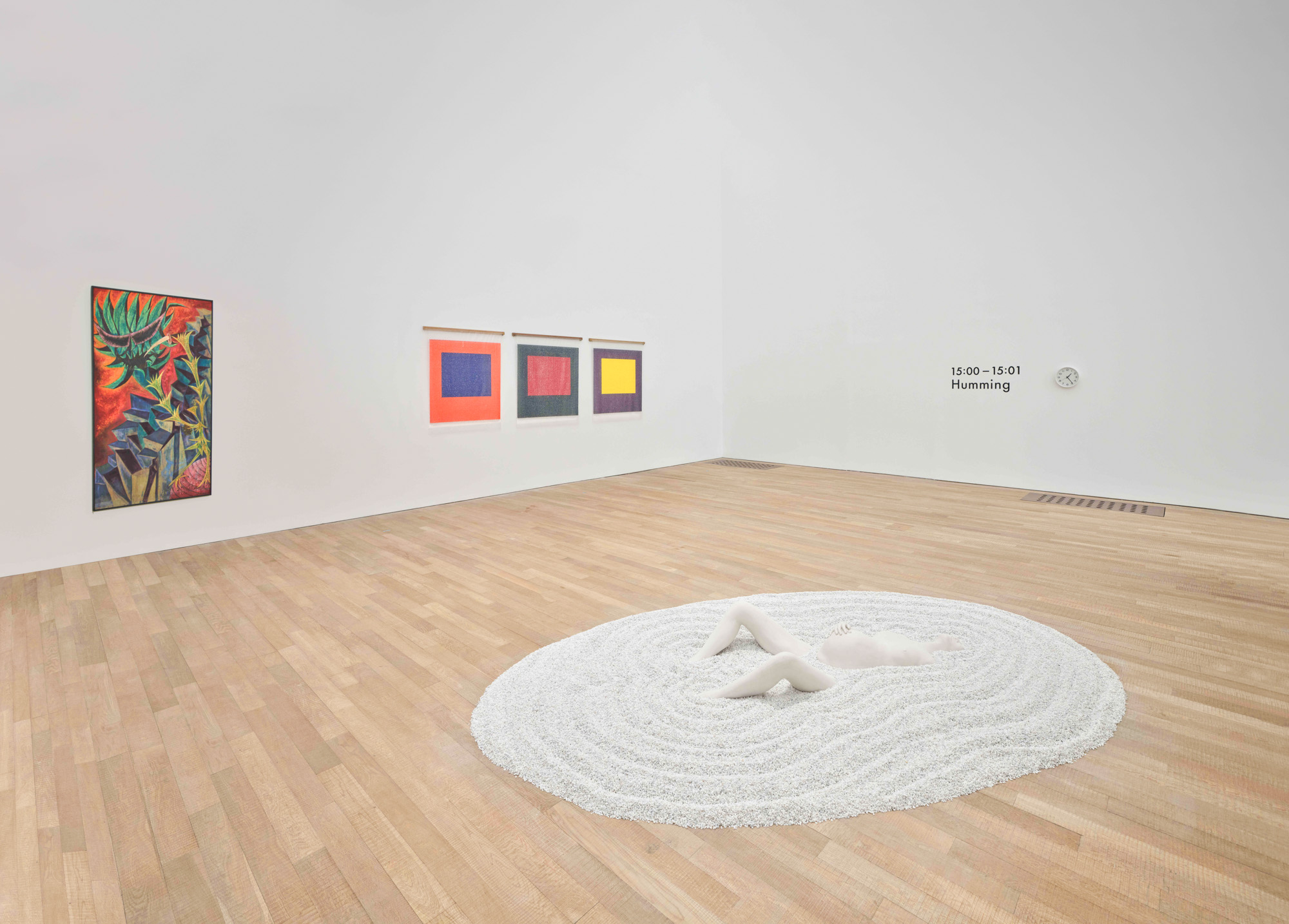 A bed of crushed white stones raked to evoke rippling tides surround a marble sculpture of a nude woman, her pregnant belly rising just above the ground. This figure is Haliya, the alluring goddess of the moon, who, according to precolonial Bicol mythology, occasionally descends to earth and bathes in a sacred stream. Agnes Arellano's Haliya Bathing (1983) imagines the Indigenous deity after she was wooed, impregnated, and betrayed by a mortal woodsman, leaving her stranded in the human realm. The sculpture captures the mother's anxiety and sacrifice—her knees are raised and her legs spread apart in preparation for labor, while her hand caresses her swollen womb as she looks skyward, contemplating the fate of the demigod to whom she is about to give birth.
At Tai Kwun, viewers are asked to keep their distance from the work—apparently, some have stumbled over the meticulously arranged gravel before. The delicate positioning and state of the installation, contingent on external factors, reflects what Arellano intended to emphasize: barred from the heavens and about to usher in a new life, Haliya faces numerous uncertainties; it is in this vulnerable moment that her courage is most apparent.  
Cast from parts of Arellano's own pregnant body, Haliya Bathing is a key figure in the artist's exploration of sacred feminine archetypes, as well as the centerpiece for her series Temple to the Moon Goddess (1983– ), in which she surveys alternatives to narratives that are religiously, historically, and socially patriarchal. As part of this group of works, and throughout her career, Arellano has also looked to mythologies from outside of her own culture, such as those of the Ancient Greeks, Romans, and Egyptians, encapsulating the essence, or "inscape," as she terms it, of a universal female identity.
ASHLYN CHAK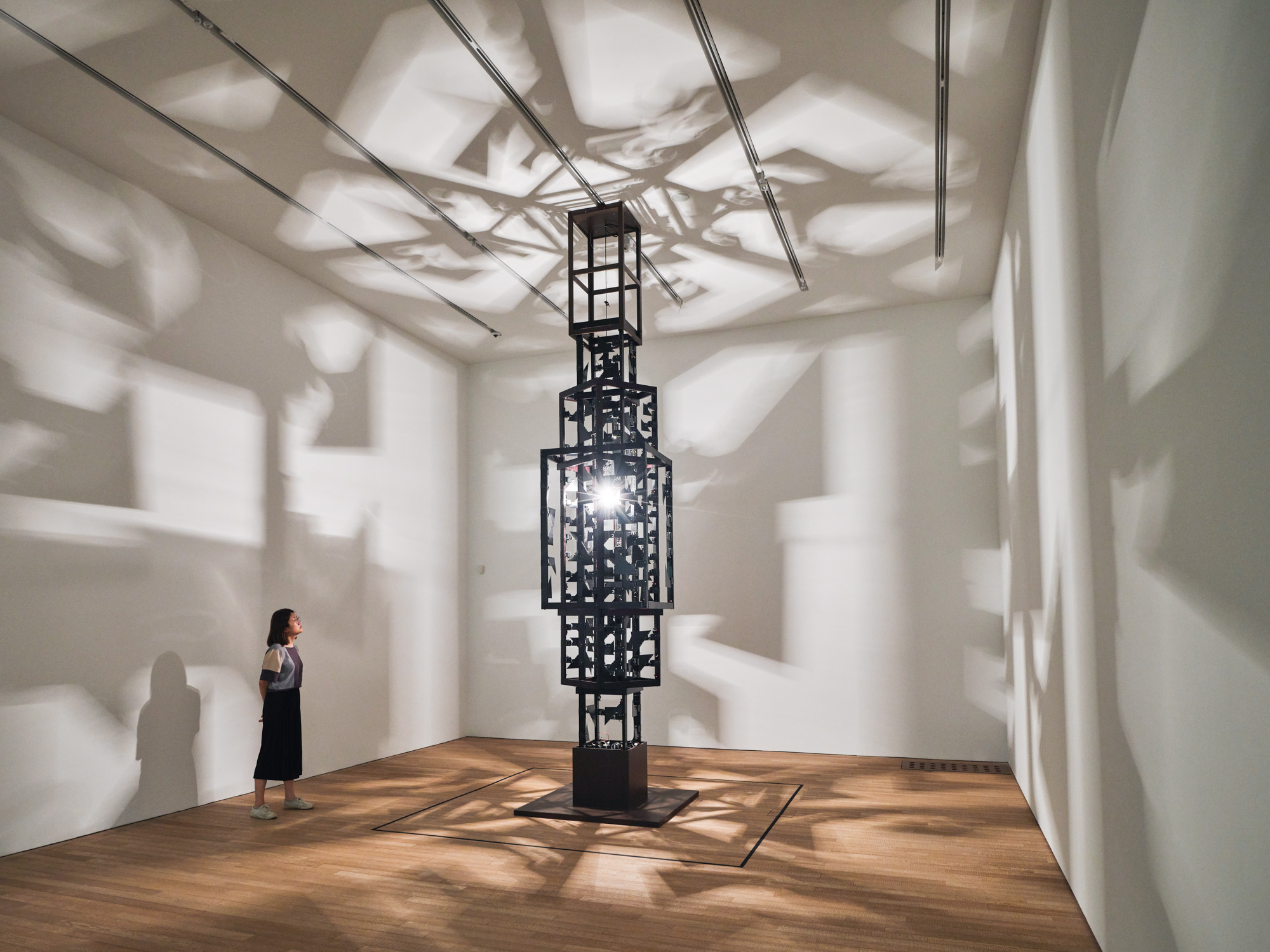 Radiating from a tower in a dimly lit corner of Tai Kwun's first floor gallery are light beams that at times dazzlingly flicker, or, in other moments, create a subdued glow in the space. Demanding attention from even the most disengaged eye, Wit Pimkanchanapong's Not Quite a Total Eclipse (2009) converges aesthetics and analytics. With precise calculation, the motorized installation manipulates light and motion until they delicately align to simulate a solar eclipse—an event clouded by superstitions.
To recreate this astronomical occurence, the hand-assembled work has three concentric wood frames painted in grey. Attached to the structures are triangular plastic flaps steadily rotating in arcs spanning 60-120 degrees on computer-directed servomotors. While the whirring blades twist and turn, an incandescent light bulb suspended within the tower casts shifting, geometric shadows that rhythmically dance on the wooden floor and surrounding white walls. The mechanical movements, varying in patterns over a 24-minute sequence, appear to mimic the natural phenomenon, which repeats itself on an 18-month cycle. But can electronic programming evoke the same sublimity of being swallowed by the moon's shadow? Wit seemingly shakes his head. The playful yet robotic installation's visible mechanical elements render it "not quite a total eclipse." Celestial magic will likely never be fully replicated by one man's exploitation of time and space.
The work was inspired by My-ya-rab (2009), the artist-architect's earlier kinetic light installation mimicking the movements of a mimosa plant. Humans have long strived to understand and dominate the natural world. While Wit's simulations suggest that such attempts to emulate natural forces are ultimately futile, Not Quite a Total Eclipse exudes an intricate magnificence that captivates viewers in its artificiality.
CHARMAINE KONG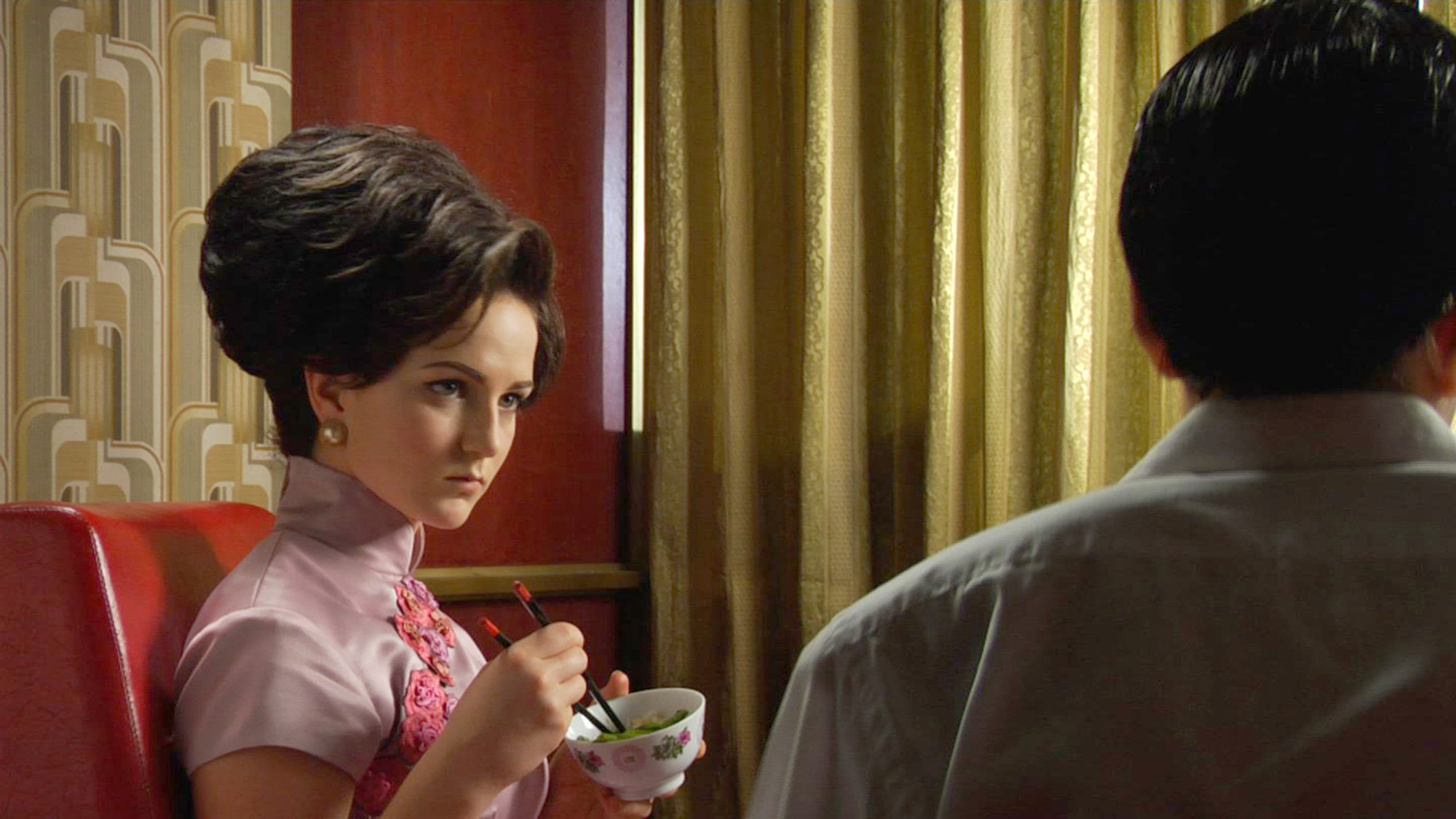 Ming Wong's In Love for the Mood (2009) unravels our semantic methods of communication, leaving behind a product of imitation that flirts with familiarity and strangeness all at once. The video triptych, displayed across three separate screens that stand parallel to each other, is based on a segment from director Wong Kar-wai's film In the Mood for Love (2000), in which a woman rehearses confronting her cheating husband with the help of a friend. In Wong's work, a non-Cantonese-speaking Caucasian actress tries to reenact the scene, playing both the woman and her male aide. Each of the installation's videos present one of her attempts. In the four-minute long sequences, the actress's broken Cantonese is haphazardly married with the emotional delicacy of the original scene. Wong deliberately includes the awkward blunders and off-script apologies of the actress in the first video, accentuating her gradual familiarity with the lines in the successive takes. While the emotive vernacular and subtleties of the scene are lost in this rearrangement of context and language, its closing moment—where the woman, overwhelmed by the reality of the situation, collapses in the arms of her companion—is cathartic for both the actress and the spectator. Immediately, the barrier between the actress's choppy speech and the original dialogue dissipates with this simple yet universally understood act of vulnerability. 
No stranger to the reframing of language and identity in cinema, Wong's later work Lehre deutsch mit Petra von Kant / Teach German with Petra von Kant (2017), features himself and a group of young artists acting out lines from Rainer Werner Fassbinder's film Die bitteren Tränen der Petra von Kant (The Bitter Tears of Petra von Kant) (1972) in German. It is through these mimetic exercises that Wong dismantles language and its nuances, inviting us to delight in extralinguistic levels of understanding.
JAE LAMB
Ashlyn Chak, Charmaine Kong, and Jae Lamb are editorial interns of ArtAsiaPacific. 
To read more of ArtAsiaPacific's articles, visit our Digital Library.