Pivot to the Future
By ArtAsiaPacific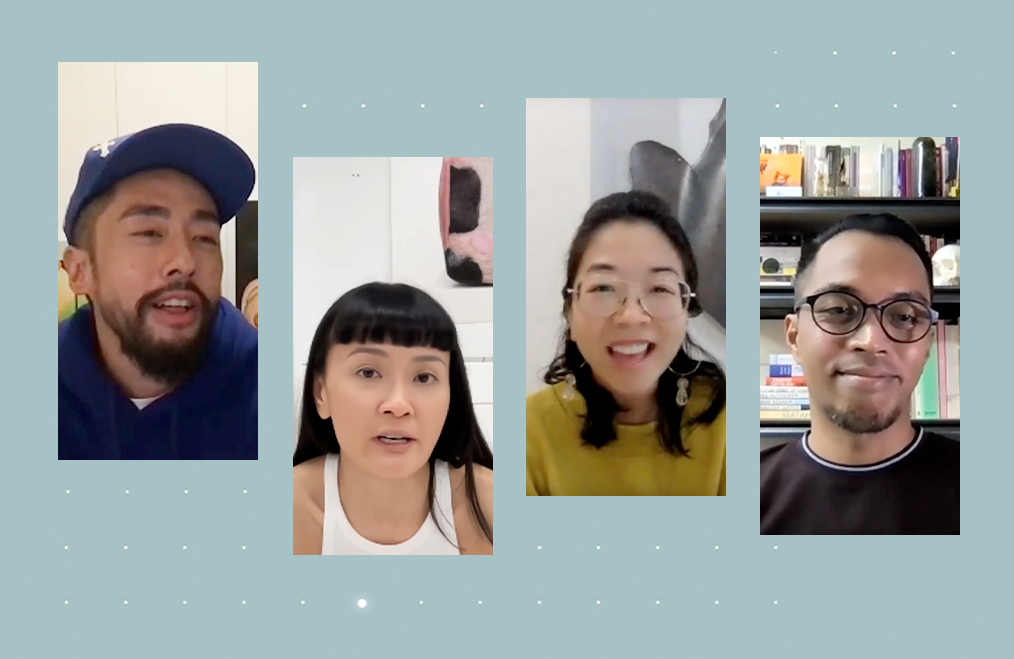 Everyone wants to know, what is the future going to look like? When ArtAsiaPacific was originally invited by the Singapore-based contemporary art platform S.E.A. Focus to curate its conversation series for its 2022 edition, the plan was to hold the events in person during the busy Singapore Art Week in mid-January. Yet the coronavirus, and government travel restrictions, made for other (namely, online) plans. Nonetheless, ArtAsiaPacific and S.E.A. Focus carried on with the programming, imagining that we all are thinking about how to "pivot to the future" while the pandemic wanes and rages in different cycles across the globe. In the six talks hosted between January 11–20, the 19 guest speakers and three moderators conversed about a wide range of urgent topics that the art communities of Southeast Asia and the wider world are facing. For instance: how are commercial galleries, art fairs, and museums adapting to the new physical realities and the rise of enhanced, digital alternate realities? How are artists and galleries sustaining themselves? And how are collectors imagining their legacies as they launch ventures in the coming years? All these topics and many more are addressed in our six online conversations, which you can view via the links below.
Collaboration vs Consolidation

Speakers: Lorraine Kiang, co-founder, Edouard Malingue Gallery, Hong Kong/Shanghai; Lucas Zwirner, head of content, David Zwirner Gallery, New York; Adeline Ooi, director Asia, Art Basel
Moderated by Elaine W. Ng, editor and publisher, ArtAsiaPacific
In this conversation, gallerists Lorraine Kiang and Lucas Zwirner, join Art Basel's Asia director Adeline Ooi to offer their thoughts on how we will experience the art, and art world, in the post-Covid era. How can international art networks play a part in overcoming the ever-shifting logistical and economic challenges posed by the pandemic, as the global art market recovers and renews? How will digitalization change the way we, the audiences and collectors, experience art from now on?
Age of Influencers

Speakers: JiaJia Fei, founder and director, The First Digital Agency for Art, New York; Kevin Poon, founder, Woaw Gallery, Hong Kong; Michael Xufu Huang, co-founder, X Museum, Beijing
Moderated by Chloe Chu, managing editor, ArtAsiaPacific
They may not call themselves "influencers" but you may know them from Instagram: Jiajia Fei, Kevin Poon, and Michael Xufu Huang represent the growing power of millennial tastemakers in the art market and the necessity of new ways of doing business, including connecting with audiences online. How are new voices on social networks shaping art-market and collecting trends today? And what are social-media marketing's unique potentials and caveats when it comes to visual art?
How to be an Artist in the 2020s

Speakers: Tammy Nguyen, Tropical Futures; Nawin Nuthong, Bangkok CityCity Gallery; Dawn Ng, Sullivan+Strumpf; Arin Dwihartanto Sunaryo, ROH Projects
Moderated by HG Masters, deputy editor and publisher, ArtAsiaPacific
Four artists participating in S.E.A. Focus's 2022 edition—Tammy Nguyen, Nawin Nuthong, Dawn Ng, and Arin Dwihartanto Sunaryo—offer insights into their remarkably unique and distinctive practices. Illustrating that there are many ways of making art, and being an artist, in the 2020s, each artist relates the core ideas that animate their works. They also discuss their engagement with their local communities and how they approach navigating the international arts scene, including forming and maintaining networks, developing strong audience bases, and adapting to new digital-marketing strategies through social media.
How to Run Your Own Art Space

Speakers: Eunice Tsang, curator and manager, Current Plans (fka Present Projects), Hong Kong; Wang Ruobing, co-founder, Comma Space, Singapore; Leslie de Chavez, co-founder, Project Space Pilipinas, Lucban
Moderated by HG Masters, deputy editor and deputy publisher, ArtAsiaPacific
Current Plans (formerly Present Projects), Comma Space, and Project Space Pilipinas are three distinctive micro-art spaces in Hong Kong, Singapore, and Lucban, respectively, each with different objectives and roles in their local communities. Their respective founders—Eunice Tsang, Wang Ruobing, and Leslie de Chavez—offer insight into what it takes to start and maintain such a space, as well as the challenges of community engagement and sustainability.
Selling Art in the Virtual World

Speakers: Isa Lorenzo, founder and co-director, Silverlens Galleries, Manila; Christiana Ine-Kimba Boyle, online sales director, Pace Gallery; Yayoi Shionoiri, executive director, estate of Chris Burden, studio of Nancy Rubins
Moderated by Chloe Chu, managing editor, ArtAsiaPacific
The future is increasingly online, as galleries and artists alike have realized. Hear from Silverlens gallery founder Isa Lorenzo; online sales director of Pace Gallery, Christiana Ine-Kimba Boyle; and arts law specialist Yayoi Shionoiri on the benefits and challenges of the digital marketplace of jpegs, OVRs, and NFTs. How does one transact remotely and discuss artworks without being able to see the artworks in person? What are the new best practices for buyers and sellers alike?
Evolving Collections

Speakers: Chloe Suen, chairwoman, Simon Suen Foundation; Petch Osathanugrah, fmr CEO, Osotspa; Sylvain Lévy, founder, DSL collection
Moderated by Elaine W. Ng, editor and publisher, ArtAsiaPacific
Three collectors with long engagements with contemporary art—Chloe Suen, Petch Osathanugrah, and Sylvain Lévy—and very different approaches, discuss how they see the evolution of their role in the art world. For veteran collectors like this trio, owning artworks had led to new interests in both maintaining those works and sharing them with the public. Listen to them discuss their activities, modes of patronage, and future plans to expand their engagement with wider publics in Hong Kong, Bangkok, and the metaverse.