Myth-making in Aespa's Girls
By Jenna Chan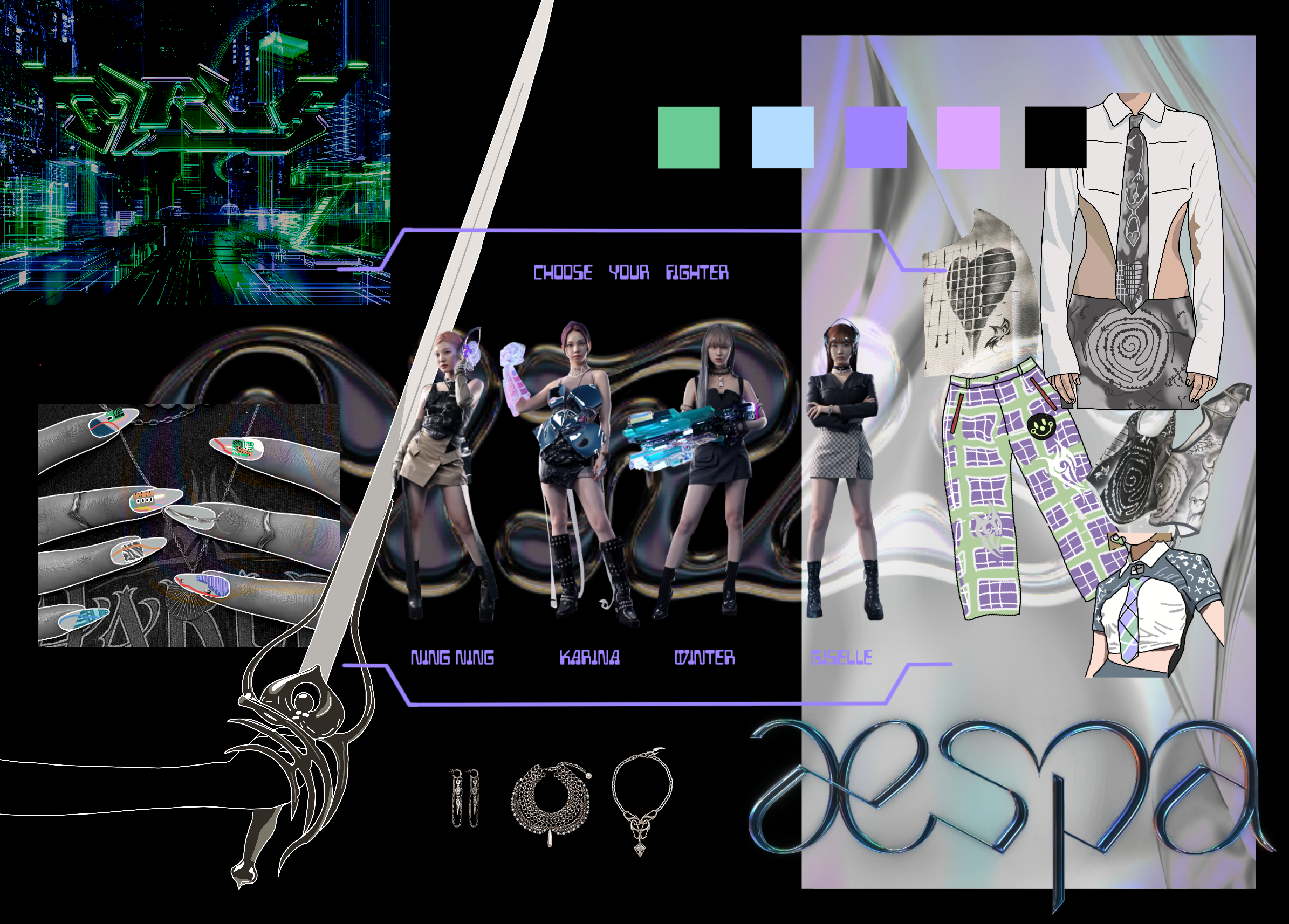 Aespa's latest EP, Girls, continues the four-member South Korean girl group's metaverse journey, which they began in their debut EP, Savage, with futuristic visuals that blur the line between the real and artificial. This time around, members Ningning, Karina, Winter, and Giselle, along with their virtual counterparts, set out to defeat the villain Black Mamba in an action-packed music video. A complex universe surrounding an EP, album, or a single's release has been increasingly common in the world of K-pop. So much so that when viewing a K-pop music video, one likely has to digest at least two parallel narratives: that of the universe and its lores, and that of the song itself. How are the lores that constitute Aespa's complex universe in Girls visually communicated? How does Aespa build its universe(s)?
Prior to Girls' drop, fans were teased with short, 360-degree videos of each member equipped with weapons corresponding to their respective abilities in the lore. These videos simulate the experience of selecting an avatar in a role-playing game (RPG). ED Hacker Ningning dons a butterfly-shaped earpiece; Karina sports a gauntlet that activates her unstoppable Rocket Punch; as an Armamenter, a wielder of military weapons, Winter carries a gun; and Giselle wears headgear that aids Xenoglossy, the ability to speak or understand a language one has not learned. This RPG narrative is carried through in their music video, which features action scenes shot from the first-person perspective as the girls fight their way through Black Mamba's lair, reminiscent of first-person shooter games.
Opalescence appears to be at the core of Girls' visual concept, with the band members' weapons and the Girls physical album rendered in a textured shine reminiscent of liquid metal. This shimmering iridescence mirrors the hues of the virtual city from which Aespa's virtual counterparts hail, and visualizes its connection to Aespa and their supernatural powers.
Aespa's core set of outfits are school uniforms with a dark and futuristic twist. They are custom pieces from Lithuanian design studio Urte Kat, who creates grayscale 3D designs inspired by folklore motifs from Lithuania that are digitally printed onto fabric. Evoking a juxtaposition between the metaverse and the mythical, Urte Kat's clothing helps Aespa bring the virtual city-space and the extraterrestrial wastelands beyond it onto the stage. Meanwhile, New York-based OHTNYC's androgynous and futuristic gothic jewellery, adorned with chains, spikes, and crystal crosses, further strengthens Aespa's connection to their posthuman lore.
The members also each wear a set of press-on nails made by Park Eunkyung, founder and owner of the globally acclaimed Unistella Nails. Ranging from metallic applications created with silver chrome powder to pieces of hardware adhered onto a holographic base, Aespa's visual concept for Girls is meticulously implemented, down to their very fingertips.
Universe-building as an almost prerequisite for K-pop productions pushes the groups beyond music, giving them a unique edge in an oversaturated global music industry. But one could also say that the focus on lores and narratives, which are often driven by management agencies instead of the artists themselves, hinders the artists' creative freedom, reinforces the perception of K-pop as pre-packaged products, and shifts too much focus from the music itself.
Jenna Chan is ArtAsiaPacific's editorial intern.