Kusama Pumpkins: Cautionary Tales
By The Editors
Over hills and yonder seas,
In soups, pies, and with peas,
There are pumpkins, pumpkins, pumpkins however you please.
We see pumpkins with spots,
We see pumpkins with dots,
They are Yayoi Kusama's,
And of these there are lots.
This pumpkin season, as spirits billow through the veil,
We present four cautionary tales,
Starring the art world's most famous, enchanting gourd.
Gaslight, Gatekeep, Gourd-less
What is a spooky story without German socialites and art-world scams? In 2017, Hong Kong-based adviser Mathieu Ticolat and his company, Art Incorporated Limited, acquired one of Kusama's pumpkins from art dealer Angela Gulbenkian, who was selling the sculpture on behalf of the Singapore-based company Artseen. Ticolat, who had never met Gulbenkian, transferred the USD 1.275 million asking price to her account, but the artwork never materialized and Artseen never received the funds.
Gulbenkian, nėe Ischwang, had married into the prominent British-Armenian Gulbenkian family, which owns art institutions such as the Calouste Gulbenkian Museum in Lisbon and the Calouste Gulbenkian Foundation. Gulbenkian was not officially affiliated with either institution, but in true charlatan fashion, she conducted business with a fraudulent @gulbenkian.foundation email address. In a tale as old as time, due to a falling out that Gulbenkian's husband—an actual Gulbenkian—had with his father, the couple were financially cut off. Instead of schlepping it like most people, Angela got creative with her income streams. How else were they supposed to pay for essentials such as chartered jets and Rolex watches?
In 2021, a London court sentenced Gulbenkian to three years and six months in prison, in addition to the two years she had already spent in prison after her arrest in Lisbon. Crime doesn't pay. Or maybe it will if she gets a Netflix special and joins the ranks of scammer darling and fellow "German" "socialite" Anna Delvey and the Tinder Swindler, Simon Leviev.
TIFFANY LUK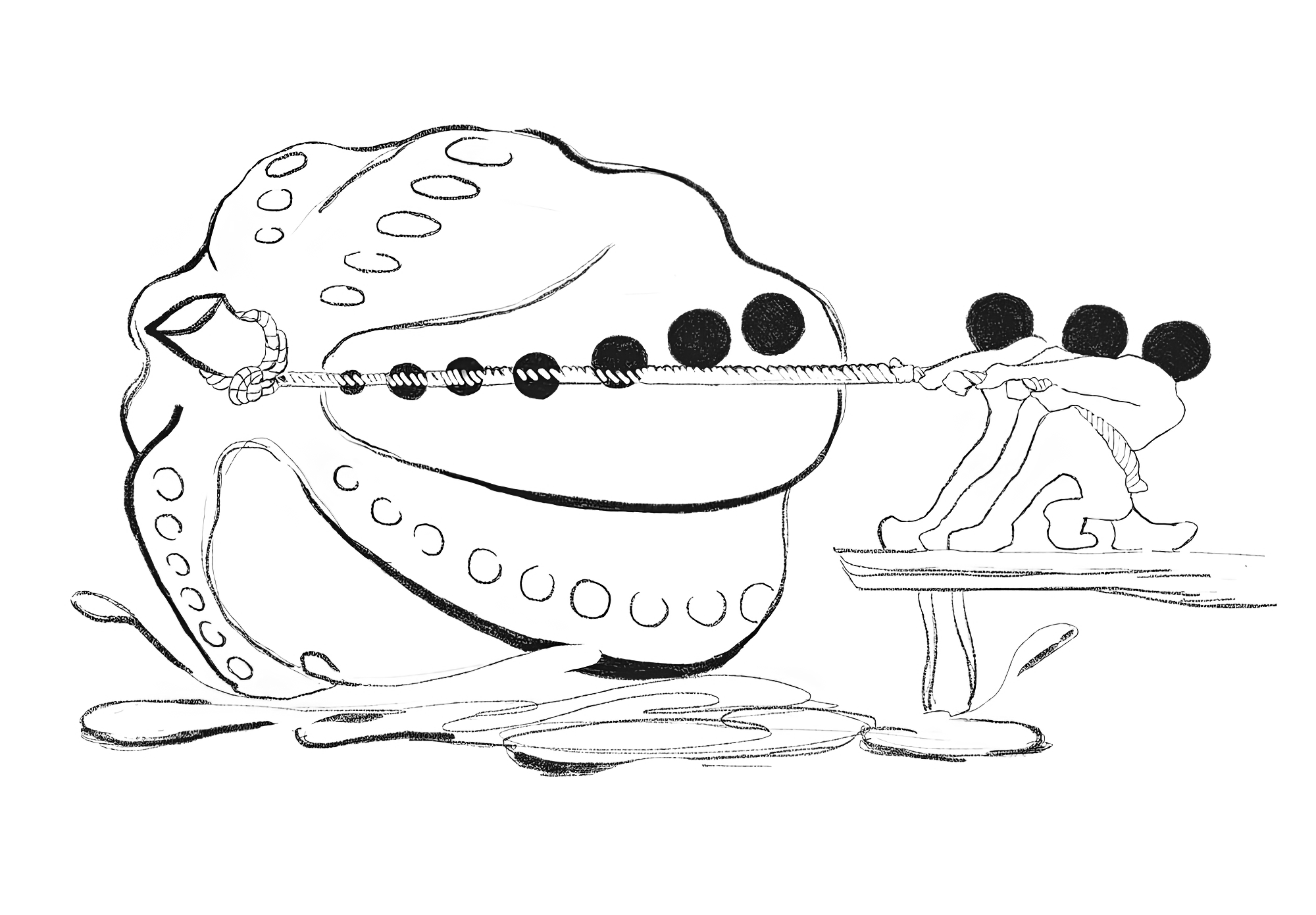 Flyaway Melon
At the Benesse Art Site on Japan's Naoshima Island, there was a large and sturdy pumpkin that had sat on the same spot by the pier since 1994. But in August 2021, the formidable Typhoon Lupit sent Kusama's Yellow Pumpkin tumbling into the sea. A viral video captured the yellow gourd disgracefully uprooted from its location and the turbulent waters of the Seto Inland Sea incessantly rolling it over—a horrific scene that shocked Kusama and melon enthusiasts around the world. Amid the heavy rains, choppy waves, and gushing winds, the staff were able to rescue the aluminum fruit, and moved it to nearby indoor storage for protection and repairs.
One year later, this October 4, the much-loved gourd finally returned to its original seat with a stronger structure built within its colorful skin (the construction was overseen by Kusama herself), alongside new precautionary measures set by the management team of Benesse Art Site. At a reopening ceremony witnessed by a group of secondary school students, the directors vowed to move the pumpkin to a safe indoor location the next time a typhoon is about to hit the island.
PAMELA WONG
Gorged on the Gourd
Who knew that one visit to a Kusama exhibition is all it takes to spark an obsession with collecting the artist's works? This was the case for Jose Isidro "Lito" Camacho, the managing director and vice chairman for Credit Suisse Asia Pacific, and his wife Maria Clara "Kim" Acuña-Camacho, a former Sotheby's representative in the Philippines. After visiting Kusama's show at Tokyo's National Museum of Modern Art in 2004, the couple began gobbling up pumpkins and more from the artist's oeuvre. Starting with their first purchase of a small 1999 painting from Kusama's longest-running series Infinity Nets, their collection has since grown to encompass more than 100 of her works spanning paintings, sculptures, prints, and even clothing.
Their collection has grown so large that there are rumors the couple have been banned from buying any more of Kusama's pumpkins. "When we collect an artist, we collect very deep, so that we accumulate almost a retrospective, from their early works to their more recent," Kim explained in an interview with The Nation, Bangkok. It certainly shows. They regularly loan their collection out to institutions for exhibitions and help with the debut of Kusama's works in different regions. In 2013, their entire collection was featured at the "I Love Kusama" exhibition at the Ayala Museum in Manila, and in 2017, important works were loaned for "Yayoi Kusama: Life is the Heart of a Rainbow," the artist's first major survey in Southeast Asia held at the National Gallery of Singapore.
MONICA FERNANDEZ
The Poetics of the Pumpkin
We end with a brief origin story and a love letter. The pumpkin's first appearance in Kusama's practice is in the 1946 painting Kabocha (Pumpkin), shown in a traveling exhibition in Japan. It was in subsequent decades that Kusama started merging the pumpkin motif with dots and site-specific installations, such as in her landmark presentation at the 1993 Venice Biennale. It has been written that for Kusama, whose family storehouse was always full of pumpkins during her childhood in Matsumoto during World War II, the fruit "represents comfort, humility, and stability." Her continuous reference to the pumpkin reflects the positivity she found during a tumultuous and traumatic period of her life.
"I love pumpkins," the artist admitted in an interview in 2015, "because of their humorous form, warm feeling, and [their] human-like quality." Below is a poem Kusama penned in 2010 celebrating her love for pumpkins. The artist read the verses aloud for her solo exhibition "Bronze Pumpkins," at Victoria Miro Garden in 2014, inviting audiences into the mind of one of the gourd's greatest champions.
On Pumpkins
By Yayoi Kusama
Pumpkins are lovable and their
wonderfully wild and humorous atmosphere
never ceases to capture the hearts of people.
I adore pumpkins.
As my spiritual home since childhood,
and with their infinite spirituality,
they contribute to the peace of mankind across the world
and to the celebration of humanity. And by doing so,
they make me feel at peace.
Pumpkins bring about poetic peace in my mind.
Pumpkins talk to me.
Pumpkins, Pumpkins, Pumpkins.
Giving off an aura of my sacred mental state,
they embody a base for the joy of living,
a living shared by all of humankind on the earth.
It is for the pumpkins that I keep on going.
LILY WONG and NICOLE M. NEPOMUCENO
ArtAsiaPacific wishes you a very happy Halloween.
Tiffany Luk and Pamela Wong are ArtAsiaPacific's associate editors; Monica Fernandez and Lily Wong are editorial interns; and Nicole M. Nepomuceno is assistant editor.