Fuzzy Criticism: Mario Klingemann's A.I.C.C.A. (Artificially Intelligent Critical Canine)
By Peter Chung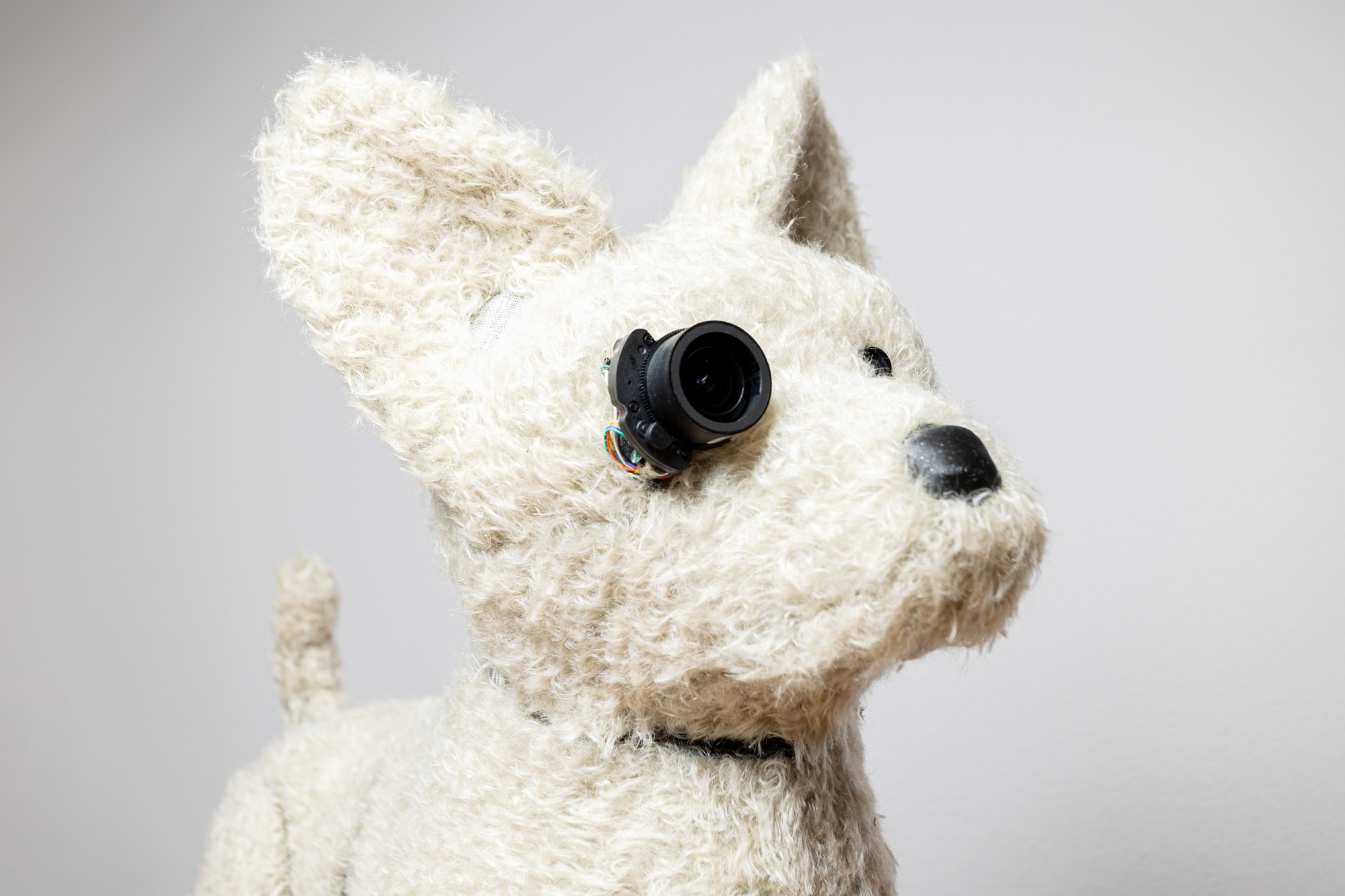 Members of the press gathered at Espacio SOLO, a museum presented by the Colección SOLO art project in Madrid on June 5 to await A.I.C.C.A. (Artificially Intelligent Critical Canine) (2023), the latest performative sculpture by German artificial-intelligence artist Mario Klingemann. The audience saw a robotic, life-sized terrier on a wheeled platform rolled in by itself; one eye of the dog's is a black lens ready to observe the surrounding artworks created by Spanish artist Grip Face from the group exhibition "Protection No Longer Assured." Amid exclamations on its furry cuteness, everyone was eager to see whether the canine, integrated with ChatGPT, could critique art as well as a human does.
As one of the art critics in the room, I was skeptical. Presumably, AI bots like ChatGPT, which theoretical linguist Noam Chomsky has described as operating by "super-autocomplete," could only generate a review by representing the statistically averaged opinion. The dated language models of such bots also lack a quality of being-in-the-art-world, disconnected from the conversations around art objects. Luckily for the concerned, Klingemann was quick to disclaim that, instead of attempting to be a rival to human critics, A.I.C.C.A. is meant to be a "pet influencer," performing a review as a humorous stunt not unlike the touring automata of the 18th and 19th centuries—the punchline is that the dog poops out its critique in the form of thermal receipts.
As a programmer and former Google Arts and Culture resident, Klingemann saw an opening for "machines that pay attention" in a sea of AI-generated content. He hooked up a set of image-recognition algorithms (trained on datasets of paintings) with ChatGPT and teamed up with Maedcore, a robotics-engineering studio, to design the automation, catering to a cute-obsessed social media with a retro and lovable aesthetic.
The performance did not take long. Klingemann's creation was to review I am a Victim of Social Labels (2022) by Grip Face. As Klingemann gestured A.I.C.C.A. towards the acrylic painting, which depicts characters illustrated in a pop art style, the dog wagged it tails before printing out a short review from its rear on a paper receipt. The ChatGPT-enabled critic recognized "a unique amalgamation of multiple visual motifs, including still life and the child," identified the child as "almost cartoonish in her features yet evokes a feeling of tenderness and innocence," and praised the artist's ability to "creates a sense of awe" with "subtle yet effective brushstrokes," To quote Rebekah Jane Rhodes, the Head of Research and Publications at Colección SOLO, it just reads like a ChatGPT-generated text. The generic language model of ChatGPT lacks the art-speak presented in similar projects like Joshua Curry's Art Review Generator (2020), which is trained on 57 years of art reviews from Artforum magazine. Still, A.I.C.C.A.'s writing is passable if far from inspiring.
In the essay "Anatomy of an AI System" (2018), researchers Kate Crawford and Vladan Joler expand the definition of AI to mean the global network of supply chains extractive of material, labor, and human cognizance. Not only has Klingemann utilized ChatGPT in A.I.C.C.A, his creation has kick-started a pipeline that tries to fill the demand of a hype-based art world. From identifying a niche market, producing a cute package of a novel idea, to inviting overseas journalists to give reviews, Klingemann's practice is exemplary of the "AI system" known as the contemporary art market.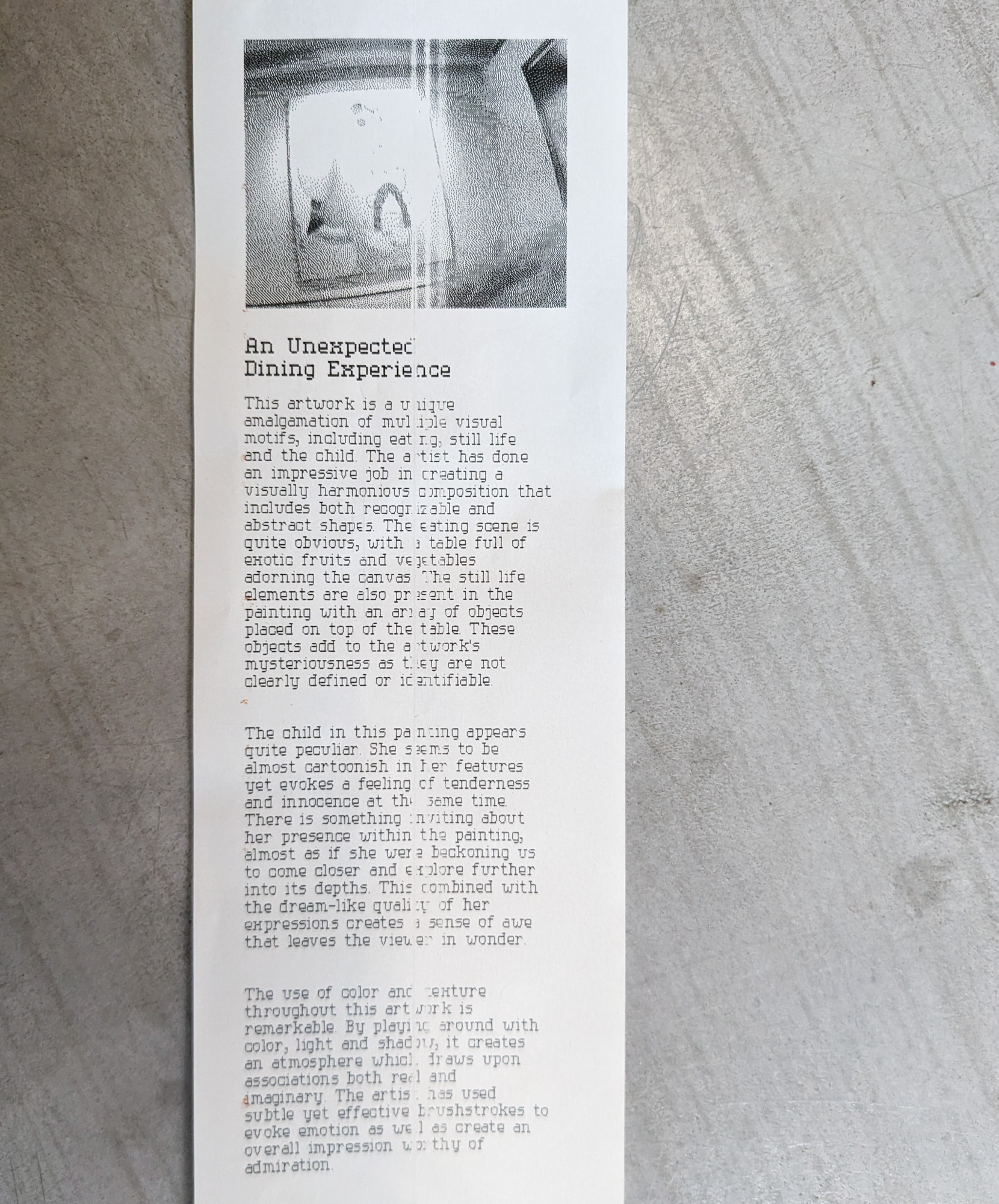 After the performance, A.I.C.C.A's printed review was forgotten and left on the floor, while a behind-the-scene operator put down the remote controller. The journalists hurried back to their home countries before writing up short recaps of the event. Despite its stated goal of being an influencer, the Twitter account of the robot dog never gained a large following. The cycle ends with Klingemann putting A.I.C.C.A's critique up for sale as an NFT.
The beauty of AI art lies not in its creativity but its obedience to the necessity of the art world by which it is governed. AI-generated works are necessarily novel in an attention economy, in the same way that flowers necessarily bloom in a pollination economy. A.I.C.C.A's life cycle signals a change of the seasons. Evidently, ours is no longer an economy that propels artworks on blind hype. Still, the failure of the pooping-AI-dog-critic is as poetic as wilted flowers.
Peter Chung is a writer and photo editor of ArtAsiaPacific.

Subscribe to ArtAsiaPacific's free weekly newsletter with all the latest news, reviews, and perspectives, directly to your inbox each Monday.