Cheat Sheet: Relational Aesthetics, or, The Art of Awkward Social Events
By HG Masters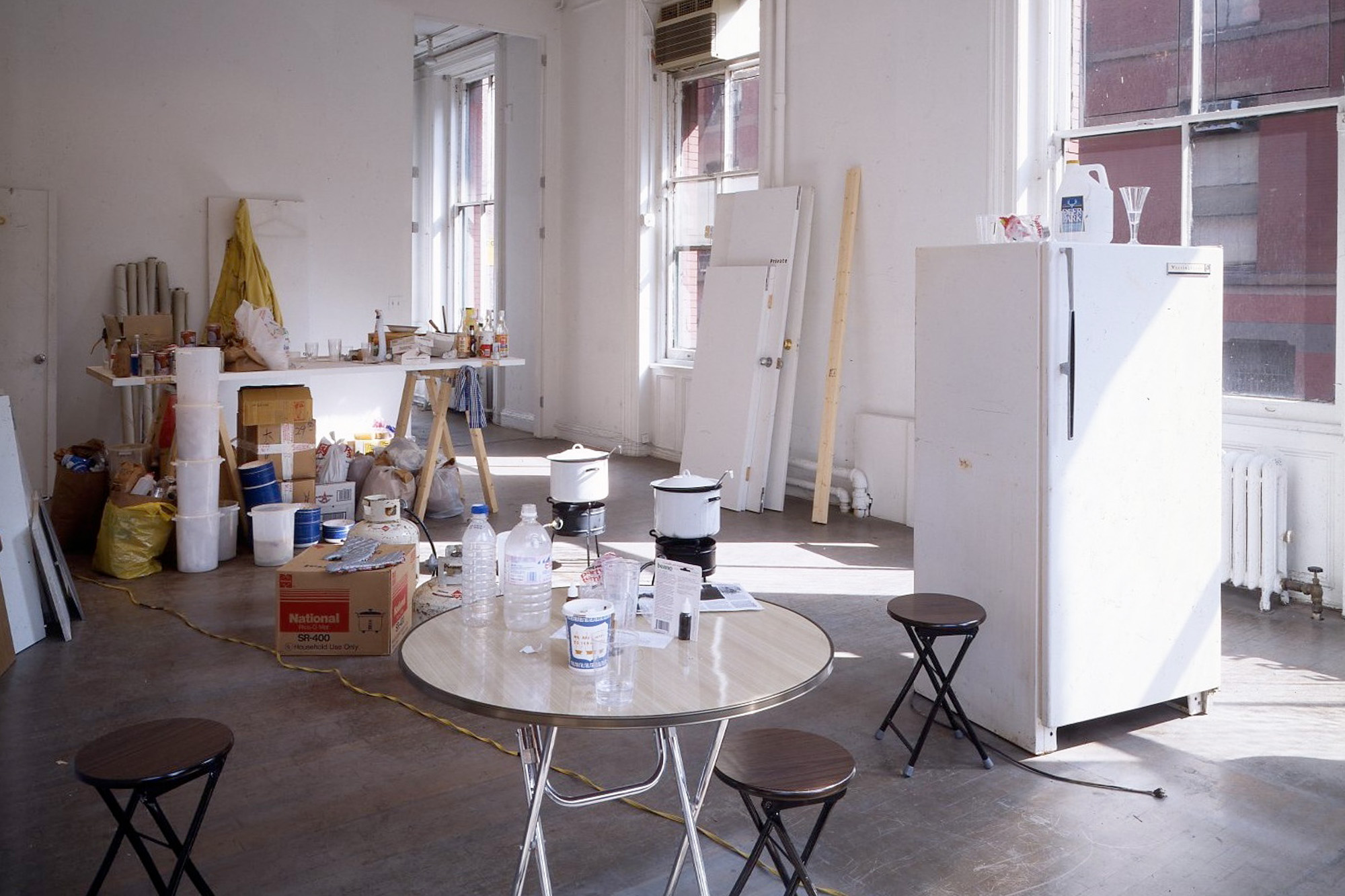 If you've ever zipped down a slide in a museum, eaten a meal cooked by an artist, or slept in a space designed by an artist, you have participated in relational aesthetics, also known as relational art. The 1990s-era ideas that fall under this term are so entrenched in the universe of contemporary art that we almost take them for granted today when we look at artists who are running community workshops, designing functioning architectural structures, or creating public installations. 
In an art historical sense, relational aesthetics is another step on devolution away from the classical modernist cultural paradigm, in which we go to museums as individuals and seek out one-to-one encounters with discrete, autonomous objects. Ever since this high-modernist ideal of art's uniqueness was articulated by figures like Clement Greenberg, artists had been chipping away at it, in the forms of pop art, conceptual art, performances and happenings, and new-media art. By the 1990s, as the internet and a newly globalized, interconnected, information-based society was emerging, artists had shifted their understanding of artworks from self-contained objects to contingent situations awaiting activation, circulation, inhabitation—a shift similar to that of the experience economy. 
The tendency dates back to 1996, when French curator Nicolas Bourriaud organized an exhibition called "Traffic" at the CAPC Musée d'Art Contemporain de Bourdeaux, with many artists whose works, he claimed, "turn the onlooker into a neighbor and interlocutor." His more elaborated, standard definition comes from his book Relational Aesthetics published two years later: "a set of artistic practices which take as their theoretical and practical point of departure the whole of human relations and their social context, rather than an independent and private space." For Bourriaud, relational aesthetics was not a theory of art but a form of art, one that is structured around "a period of time to be lived through" and that resisted the commodification of social life through forms of experimentation. His concept stems from a tradition of the materialist social sciences (Marxists like Louis Althusser and sociologist Émile Durkheim), as well as 1960s-era European avant-garde artists like the Fluxus group and the Situationists, but the aims of many relational artworks, he wrote, were "to achieve modest connections, to open up (one or two) obstructed passages." Not all of the original relational aesthetics artists were engaged in live events or communal practices. Bourriaud even saw works like Gabriel Orozco's image of oranges in a Brazilian marketplace (Crazy Tourist, 1991) and Gillian Wearing's photographs of strangers in the street holding signs they had written as examples of this new awareness of connections in the world. 
As with all terms, what started out as an attempt by Bourriaud to synthesize a new, as-yet undefined ground that he saw linking ostensibly diverse practices has seen many variations over time. In a sense many of the things that Bourriaud cited artists were doing 20 years ago are now standard elements of social-oriented art practices. Along the way there have many critiques of relational aesthetics as being too insidery (Claire Bishop in October), smug, privileged, or even boring (Joe Scanlan in Artforum), which it may have become in many individual cases—as did many of the artistic cliques grouped under the term, who went from being peripheral figures to institutionalized superstar artists and curators. But the artists of the 1990s repaved the streets for the art of today. We almost assume that artists will be addressing phenomena in society and the cultures and experiences that connect us to others. In fact, it might even be notably strange to encounter an artwork today that isn't relational in some sense, though perhaps in the post-pandemic world ideas of social life, global proximity, and distance will take new forms and significations.  
HG Masters is the deputy editor and deputy publisher of ArtAsiaPacific. 
To read more of ArtAsiaPacific's articles, visit our Digital Library.