Artstrology: Capricorn 2021–22, Cha-cha
By Pamela Wong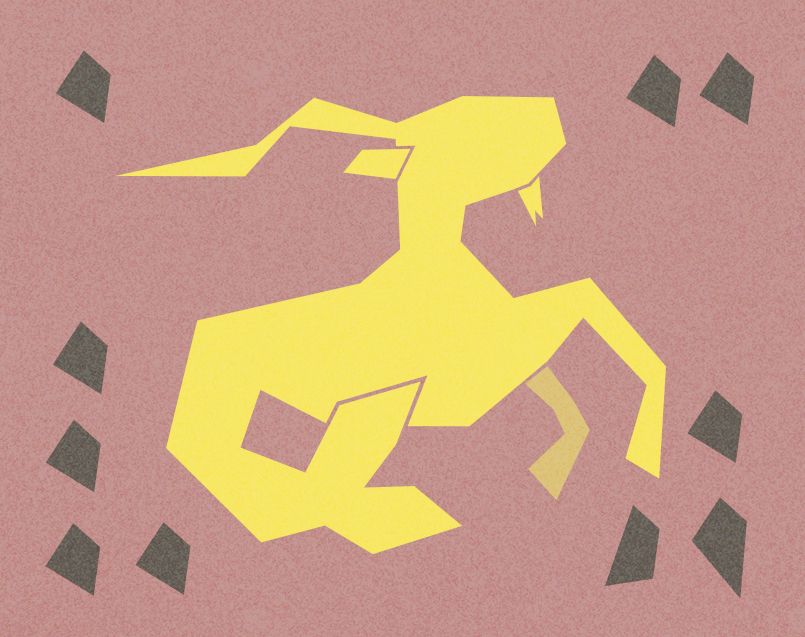 Capricorn, the lateness of this blog demonstrates the delays and disturbances that you've experienced throughout your season, as Venus goes retrograde in your sign from December 17 until the end of January, joined by Mercury in mid-January. You seem to have had lots of choices in terms of finance and romance—so what are your latest thoughts about commitment? How much have you healed and evolved? Are you honoring your truths and fulfilling your needs? If you have been mindful of what's happening internally, don't worry, you'll find a solution to end money problems once and for all this month.
Known for being inexpressive and at times self-isolating, Capricorns often trap themselves in the prisons of their own minds. In Capricorn writer Yukio Mishima's novel The Temple of the Golden Pavilion (1956), the young protagonist suffers from his inability to speak properly: "My stuttering, I need hardly say, placed an obstacle between me and the outside world. It is the first sound that I have trouble uttering. This first sound is like a key to the door that separates my inner world from the world outside, and I have never known that key to turn smoothly in its lock." Mishima has a specific archetype for his idealized male heroes: hypermasculine, wild in spirit, and barely communicative. He seems to believe that the most passionate people are always reticent, contrasting Mishima himself, who was very articulate and critical. The author's linguistic abilities are demonstrated through not only his novels and essays, but also his lectures and speeches, as seen in the recently released documentary Mishima: The Last Debate (2020), which features recordings of his heated debates with students during the 1969 protests at the University of Tokyo. Perhaps Mishima's obsession with silent heroes came from the suffering caused by his own excessively analytical mind.
Capricorn is also tied to tradition, ritual, and history. Most Capricorns are attached to old objects or enjoy collecting antiques and vintage clothes. Unlike their oppositional sign, Cancer—also known for being nostalgic—Capricorn pays more attention to the value and spiritual significance of things, and questions the notion of "waste" and "trash." Capricorn artist Zhang Huan, for example, collects incense ash from Chinese temples for his series of large-scale Buddha figures and heads. To create these sculptural installations, Zhang compresses the ash using large molds over the course of several days. After the mold is removed, the ash sculpture gradually crumples and collapses. Zhang believes that the ash represents collective memories and hopes, which appear powerful as a whole but fragile against the forces of time, and reveal the ephemerality of rituals and religious beliefs.
Capricorn season is usually a time to rest and take stock. It is also a great time to re-examine the meaning and value of the things in your life and to de-clutter your space.